Washington, D.C. – In case you missed it, Congresswoman Elise Stefanik joined House Republican Leadership in a press conference to discuss the Democrats' partisan multi-trillion dollar tax and spend package.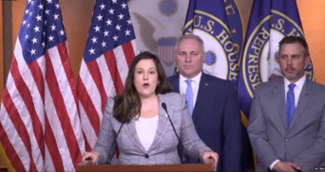 Click here to watch her full remarks.
Below is a transcript of her full remarks:
Good Morning,
Every day the American people continue to see the consequences of Joe Biden and House Democrats' failed policies causing a crisis in America.
Joe Biden's open-border policies have created the worst border crisis in over 30 years. There have been over 1.4 MILLION illegal border crossings since Joe Biden took office. And in September alone, there were more than 192,000 border apprehensions, a 233% INCREASE from last year, and the highest number for September in recorded history.
Democrats reckless spending policies have resulted in an economic crisis across America that has families making less and paying more for just about everything, as inflation continues to skyrocket.
At the pump, Americans are paying more. The average cost for a gallon of gas is over $3.00 in every state across America and much higher in states like California. That's over a dollar more than last year.
Right now, our local communities are facing a supply chain crisis that's leaving shelves empty and our local businesses scrambling.
And Thanksgiving is shaping up to be the most expensive Thanksgiving meal in the history of the holiday.
And now we see in the Democrats far-Left socialist tax and spend, multi-trillion dollar, behemoth bill, that they are warning Americans there will be home heating bills increasing upwards of 54% compared to last winter.
These crises hit American families directly, and in the midst of this uncertainty going into the holiday season, Democrats continue to peddle this tax and spend, multi-trillion dollar package with Far Left Socialist policies.