Washington, D.C. – In case you missed it, Congresswoman Elise Stefanik today joined Ainsley Earhardt on Fox and Friends to discuss the negative implications of vaccine mandates on New York communities, healthcare workers, and first responders.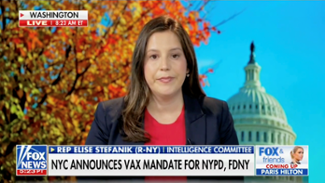 Click here or on the image above to watch to the full interview.
Some highlights from the interview include:
On New York state vaccine mandates:
"We have seen in New York State the consequence of these unconstitutional mandates with Governor Hochul's mandate regarding vaccines. We have seen walkouts, and this is where our health care, hospitals, community centers are facing staffing shortages."
"In my district, we have a rural hospital that's no longer able to deliver babies because of these mandates. It is unconstitutional, it is an attack on everyday freedoms, and it is something that House Republicans are fighting back against."
On New York City Mayor Bill de Blasio's vaccine mandates:
"It's just another example of New York City spiraling out of control with the failed leadership from Mayor de Blasio, particularly after two years when we've seen skyrocketing crime numbers in New York City."
"The fact that he's instituting the mandate for law enforcement officers, for first responders, and for city workers, it's going to have a hugely negative impact both on the way of life in New York City, but also on the safety and security in New York City."
"New Yorkers have to stand up and demand better leadership from their mayors, from their governors, and from the President of the United States."
On President Biden mocking the personal freedoms of Americans:
"It's typical of Joe Biden to attack everyday freedoms. First of all, they are turning their back on law enforcement and first responders who put their lives and their health on the line every single day, particularly during the COVID pandemic."
"There should be religious exemptions, and we want to encourage every American to have those important conversations with your doctor. We are promoting vaccines. We have invested in vaccines, but every person situation is different. In many cases, people contracted COVID and have the natural immunity, so there needs to be flexibility."
"These mandates are unconstitutional, and it's attack on freedoms in the country and to have the President of the United States mock freedom, frankly that's un-American."