Washington, D.C. – Congresswoman Elise Stefanik today hosted a roundtable discussion to expose Democrats' plans to federalize our education system with radical policies in their Far-Left tax and spend package.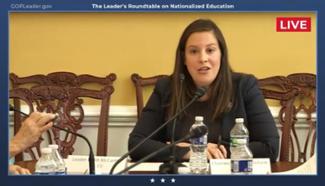 Republican Leader Kevin McCarthy (CA-23), Ranking Member of the Education and Labor Committee Virginia Foxx (NC-05), Congresswoman Julia Letlow (LA-05), and Congressman Burgess Owens (UT-04) joined Stefanik for the roundtable discussion, along with Ginny Gentles, an advocate for school choice, President and Founder of Parents Defending Education Nicole Neily, Brandon Michon, a Loudon County parent, and his son, Duke.
Stefanik's opening statement:
"Good morning, welcome to today's roundtable. In the past two weeks, Kevin McCarthy has been leading great discussions about policies that House Democrats are pushing on the American people in their tax and spend, Socialist reconciliation package.
"This bill will impact honest, hardworking Americans in very negative ways. This bill makes it more expensive to heat your home, to fill up your car with gas, or turn on lights. And as we are discussing today, it will drastically increase the cost of sending children to preschool and take away parental power when it comes to education and put it in the hands of the federal government.
"We know that that is not a message that resonates with America.
"Virginia spoke loud and clear last night that parental rights is an issue that we can run on and we can win on when it comes to education. And Republicans are committed to always standing up for our parents and students."
Stefanik's full remarks:
"The past year and a half, as we have faced the COVID pandemic, we have seen an unprecedented window into our children's education across the country – so it's no surprise that we have seen an uptick in parental engagement.
"Parents are right to be concerned when they see their kids taught radical ideologies, forced to remain masked and distanced from their peers, or exposed to inappropriate instructional materials.
"Yet as parents expressed very real concerns about their children's education, the Biden Administration took an unconscionable action to silence parents by trying to mobilize the FBI to intervene at school board meetings – absolutely disgraceful.
"Education Secretary Miguel Cardona even refused to accept that parents should be the primary stakeholder in determining educational programing for their kids.
"Today's Democratic Party believes that government knows better than parents when it comes to what is right for their kids – this belief is way out of touch with the values and experiences of families across America, and we saw that clearly in Virginia last night.
"The Democrats' reconciliation bill – their Far-Left, Socialist tax and spending spree, doubles down with a drastic expansion of federal control of education with their proposal to nationalize America's elementary schools.
"It gives the Biden Administration complete control to approve the early education standards being taught to three to four-year-olds, including standards relating to children's social and emotional development.
"Their bill places no limit on what additional requirements the Biden Administration can impose to further dictate how states must run their preschools and K-12 schools.
"Make no mistake, the Democrats' bill takes away choices from parents on how, where, and what they want their kids to learn. It also limits preschool options to those that will take direction from the Biden Administration on what to teach.
"Family and faith-based educational providers serve as a cornerstone of the early child education options in many communities, including in my district in New York's North Country, yet they have little place in the proposal from the Democrats where the government, not families, decide what programs qualify to educate young children.
"Now that parents have seen firsthand what takes place in classrooms when Democrats are in charge, no one should blame parents for not wanting the same schools solely responsible for the safety and education of their three-year-old children.
"What's more, a recent analysis of the child care subsidies in the Democrats' bill will spike the cost of child care for middle class families by $13,000. This will incentivize working parents out of a job to be able to afford to care for their children.
"Republicans will protect parental rights. We will always stand up for parental rights when it comes to our education system."
Watch the full roundtable here.