Washington, D.C. – In case you missed it, Congresswoman Elise Stefanik joined House Republican Leadership in a press conference to discuss how the American people are losing confidence in President Joe Biden and House Democrats due to their failed leadership over the past year that has created crisis after crisis across the country.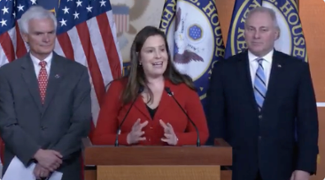 Click here to watch her full remarks.
Below is a transcript of her full remarks:
Good morning, everyone. It has been a year of unprecedented crises because of Joe Biden and House Democrats' failed leadership.
The American people do not trust Joe Biden, and time after time, with every issue he touches, he makes the problems facing American families worse – exacerbating all of these crises that our constituents are forced to bear. And his sinking poll numbers from the start of this year to today are proof of that.
Due to the Democrats' reckless tax and spend policies and their unconstitutional mandates, hardworking families are struggling under the skyrocketing cost of groceries and basic goods due to inflation and the empty shelves in local stores across America.
Port congestion is getting worse, which means not only gifts for family and friends are sitting on boats, but the backlog is hurting our small businesses that are trying to get their products to market during their busiest season of the year.
We call this Joe Biden's "holi-delays."
I've seen firsthand how this is impacting families in my district and small businesses in the North Country.
Another crisis that Democrats continue to ignore is the crisis at our southern border. Since Joe Biden became president, we've had over 1.6 million encounters at the southern border.
And with this surge at our border, there's an unthinkable amount of fentanyl and fentanyl-related substances pouring into communities—enough to kill every American 7 times over.
Think about that. Enough fentanyl to kill every American 7 times over