Washington, D.C. – In case you missed it, Congresswoman Elise Stefanik joined House Republican Leadership in a press conference to discuss how one year under Joe Biden and Democrats' complete Far-Left control in Washington has created numerous crises for the American people, including the worsening COVID crisis.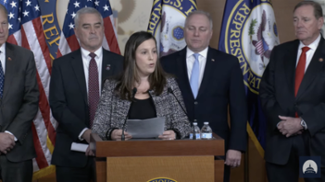 Below is a transcript of her full remarks:
This week marks one year since Joe Biden was sworn into office, and it is one year of complete Far-Left Socialist Democrat control in Washington.
And in just one year, what have we seen? Joe Biden's failed leadership has led to crisis after crisis for the American people. Hardworking families are suffering from an economic crisis, an energy crisis, a border crisis, an education crisis, a national security crisis, and now, a worsening COVID crisis.
This week, House Republicans will highlight the many failures we have seen this year under Democrats' one-party rule.
Yesterday, we kicked off the week with a roundtable hosted by Leader McCarthy focused on our children's education and the impact that Democrat lockdowns are having on kids across the country.
This afternoon, you will hear from House Republicans about the economic crisis created by Joe Biden and House Democrats' out-of-control, reckless spending. We will also be discussing the crime crisis that is gripping communities across our country due to Democrats' Far-Left Socialist agenda and their 'defund the police' rhetoric and policies.
Tomorrow, the entire House Republican Conference will be outlining Joe Biden's year of crises.
And on Friday, we will start the day by highlighting the national security crises focusing on Joe Biden's weakness on the world stage that has emboldened our adversaries in Beijing, Tehran, and Moscow. House Republicans will close out the week by defending our right to life with supporters from across the country.
Today, I'm joined by my colleagues who lead committees and lead the Republican Doctors Caucus, to discuss Joe Biden's worsening COVID crisis.
This month, the U.S. broke the record for the most COVID hospitalizations at over 132,000
people hospitalized, and m
ore Americans died from COVID-19 in 2021 than in 2020.
President Biden FAILED to deliver on his promise to "shut down" the virus.