Washington, D.C. – Congresswoman Elise Stefanik today was awarded an A+ by the Susan B. Anthony List for her 2021 voting record to protect the lives of the unborn and work to protect taxpayer dollars from funding abortion.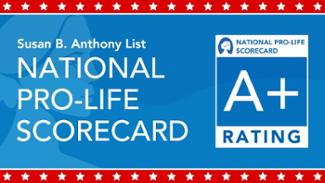 "After becoming a new mom in August, the fight to defend life has never been more important to me," Stefanik said. "I am proud to be honored for my record to protect the lives of the unborn. They are truly the most vulnerable among us, which is why I am proud to stand on the side of life."
Congresswoman Stefanik led her Republican colleagues in a #HydeSavesLives social media day of action to protect the historic, bipartisan Hyde Amendment, which prevents taxpayer dollars from being used to fund abortions. She offered a unanimous consent request for consideration of H.R. 18, the No Taxpayer Funding for Abortion and Abortion Insurance Full Disclosure Act, which would make the Hyde Amendment permanent.