Saratoga, New York – Congresswoman Elise Stefanik today hosted a virtual roundtable with North Country sheriffs to provide a legislative update and hear from these law enforcement leaders on working together to support law enforcement and keep our communities safe.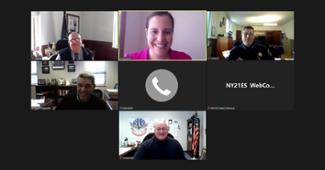 "This morning, I hosted a roundtable with County Sheriffs from New York's 21st District to discuss my support of law enforcement officers and hear their top priorities and concerns,"
Stefanik said.
"I stand strongly with our Sheriffs in opposition to New York's dangerous bail reform policies, and I strongly oppose any efforts to defund the police. Thank you to all of our local, county, state, and federal law enforcement officers and their families who put their lives on the line to serve our communities every single day."
Stefanik was joined by sheriffs from St. Lawrence, Herkimer, Lewis, Saratoga, and Franklin Counties.
Stefanik has always backed the blue and opposed any and all calls to defund the police. She is a proud co-sponsor of: