Washington, D.C. – Congresswoman Elise Stefanik today hosted a virtual workforce development roundtable with North Country small businesses to hear their concerns and discuss her work to empower job creators and equip the North Country workforce.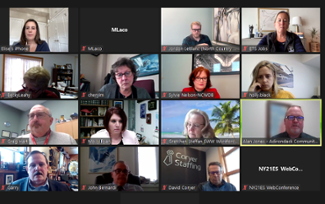 "I appreciate the opportunity to host today's roundtable to listen to the workforce needs facing our small business community, so I can bring their concerns to the highest levels of Congress,"
Stefanik said.
"In the midst of the challenges they are facing, I will continue to stand up for North Country small businesses against government policies that discourage work and offer real solutions to help our small businesses access the skilled workforce they need."
Stefanik is a senior member of the House Committee on Education and Labor and has led several legislative initiatives to empower job creators and equip our workforce. In December, Stefanik
introduced
the Employer-Directed Skills Act to empower America's job creators to provide skills development opportunities that equip workers for in-demand jobs. She has also
introduced
the Family Child Care Networks Act to increase home-based childcare options in rural and underserved communities to support working parents by providing reliable childcare options.
Stefanik was joined today by:
Sylvie Nelson, Executive Director of the North Country Workforce Development Board
Garry Douglas, President and CEO of North Country Chamber of Commerce
Molly Ryan, Executive Director of Clinton County Industrial Development Agency
Holly Black, Human Resources Manager of Vapor Stone Rail Systems
Becky Leahy, Executive Director of North Country Home Services
Alan Jones, Executive Director of Adirondack Community Action Program
David Coryer, Chief Operating Officer of Coryer Staffing
John Bernardi, Executive Director of United Way of the Adirondacks
Greg Hart, Regional Director of Workforce Development Institute
Deb Cleary, President and CEO of ETS, Inc.
Cheryl Mayforth, Executive Director of the Jefferson-Lewis Workforce Development Board
Gretchen Stefan, Executive Director of the Warren-Washington-Saratoga Workforce Development Board
Jordan LeBlanc, Coordinator of the North Country Workforce Development Board