Washington, D.C. – Congresswoman Elise Stefanik today released the following video responding to one year of unified Democrat Party control of Washington.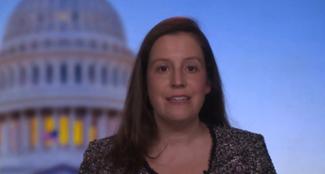 One year ago, President Joe Biden was sworn into office.
And today marks a full year of unified Democrat Party control of Washington, and it is clear that the leadership of President Biden and Speaker Nancy Pelosi is failing America.
When Joe Biden first took office, he inherited a recovering economy, strong border policies, and an energy independent nation.
But his policies have brought crisis after crisis on the American people, and it made things worse for North Country families.
Last week, inflation hit a 40-year high.
Prices are rising for every American because of Far-Left Democrats' out-of-control government spending.
Our North Country families work hard for their paychecks, and they deserve better.
Shelves are empty and services are scarce because of Joe Biden's mandate-driven labor shortages.
Gas prices are sky-high because Joe Biden has favored foreign energy over American production.
Even though Americans are paying more to fill up their cars and heat their homes, Democrats are working on passing yet another spending package that prioritizes Green New Deal policies, costing trillions.
This would include an expensive "Heat Your Home" tax that would only exacerbate this problem and increase energy prices even more.
This would devastate North Country households.
Crime is surging because Democrats would rather defund and demean the police than support our law enforcement.
Our Southern Border is in chaos because of their open-door immigration policies, but Joe Biden delayed the reopening of the Northern Border for months at the expense of North Country communities and small businesses.
But in the face of one year of crises of Democrats' own making, I am proud to lead the fight against President Biden's failed policies and speak out against harmful policies for our families, small businesses, and North Country communities.