Washington, D.C. - In case you missed it, Congresswoman Elise Stefanik joined Republican Leader Kevin McCarthy, Whip Steve Scalise, and House Republican Members in advance of tonight's State of the Union Address to discuss President Biden's State of the Union in Crisis, which has been directly caused by Biden and House Democrats' failed Far-Left Socialist agenda.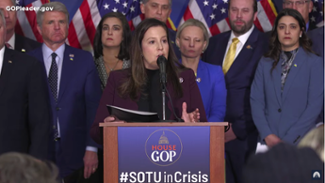 Click here to watch her full remarks.
Full transcript of her remarks can be found below:
The state of our union is in crisis because of Joe Biden. Tonight, President Biden will try to rewrite history of the past year and pass the buck, instead of taking responsibility for the failures of his radical Far-Left Democrat agenda.
But the American people are smart. They know the truth that under President Joe Biden and Nancy Pelosi's one party Democrat rule, the United States and now, the world, have faced crisis after crisis.
The war on Ukraine represents one of the greatest foreign policy failures in modern history.
For months, President Biden failed to engage in meaningful deterrence against Russian aggression. And just weeks ago, his administration actually lobbied against Republican efforts to sanction Russia.
On day one of his Presidency, Joe Biden killed the Keystone XL pipeline and launched his war on American energy independence. And then Joe Biden gifted Putin the Nord Stream 2 Pipeline while importing a record amount of oil from Russia last year. Mr. President, it's time to unleash American energy independence.
At home, Americans are paying the price for Joe Biden's anti-energy agenda that has caused the price of gas to skyrocket. In my home state of New York, people are paying over a dollar more on a gallon today than they were just one year ago, making it the highest since Joe Biden was last in the White House.
Our southern border is being overrun. Violent criminals and deadly drugs are freely flowing across our southern border because of Biden and House Democrats' open border policies. Every state in our nation has become a border state because of this crisis.
And, of course, crime is skyrocketing across the country because of Democrats' 'Defund the Police' policies and rhetoric, making all our communities less safe.
And inflation is at a 40-year high and hurting every American family.
Joe Biden and House Democrats are responsible for this State of the Union in crisis.