Washington, D.C. – In case you missed it, Congresswoman Elise Stefanik joined House Republican Leadership in response to Ukrainian President Volodymyr Zelenskyy's Address to Congress.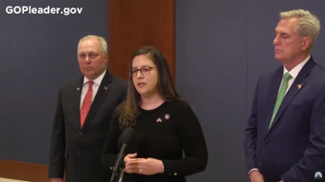 A transcript of her full remarks can be found below:
The American people stand strongly with the people of Ukraine.
The speech we just heard from President Zelenskyy was inspiring. And talk about a leader who has risen to a catastrophic challenge and a catastrophic crisis in his country. He outlined the fact that this is the most significant national security crisis in Europe since the end of World War II.
The stakes could not be higher. This Administration has been far too slow, not only in our implementation of sanctions, but the lack of completeness of sanctions. The Ukrainian people need those MiGs, and they need them now. They needed them yesterday.
House Republicans have been united in advocating for strong, tough sanctions for months, predating the invasion. We stand strongly in support of MiGs and making sure that the weapons and ammunition that is needed get to the Ukrainian people as quickly as possible.
And just as a new mom, it is heart-wrenching to watch the video that President Zelenskyy just played, in terms of the bombing of maternity wards and the war crimes that are being committed today. Make no mistake - there will be consequences on the global stage for Vladimir Putin, who is a war criminal and a thug.