Washington, D.C. - In case you missed it, Congresswoman Elise Stefanik joined Kudlow on Fox Business to discuss Joe Biden's state of the union in crisis. On the program, Chairwoman Stefanik outlined the energy crisis, national security crisis, crime crisis, and border crisis created by Joe Biden and Far-Left Democrats' one-party rule.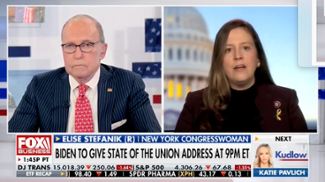 Click here to watch her full interview.
Highlights from the interview include:
On Joe Biden's State of the Union Address:
"We're so hard at work, not only prosecuting a case against Joe Biden and Nancy Pelosi's failed agenda, which you're going to hear a lot about tonight. Tonight is about the state of the union in crisis.
"No amount of rewriting the history of this last year is going to take away from the fact that their failed policies have hurt every American family."
On Republicans' Commitment to America:
"Republicans are supportive of our commitment to America. And we're getting feedback from every state, every congressional district across this great country."
"The crisis that I hear most about is inflation. I hear that in every part of my district. That's a tax on every family. Republicans stand for responsible fiscal policy."
"We worked very hard to defeat the multi-trillion-dollar "Build Back Better" agenda, which would have been the largest spending bill and largest tax increase in our nation's history."
"We're going to cut taxes to make sure Americans can keep more of their hard earned money in their own pockets."
On Democrat Policies Making America Less Safe:
"Now we see, as we're facing a national security crisis in Europe, that rather than looking to American-made energy, you have Joe Biden and House Democrats who want to increase our reliance upon Russian energy."
"Communities across this country are less safe under one-party Democrat rule. We see this in my home state of New York, and it's a tragedy every single week. Homicides are significantly up, and we see the number of NYPD officers who have lost their lives."
"We will support our law enforcement, and rather than defunding the police, we will invest in our law enforcement."
On Biden's Catastrophic Border Crisis:
"Republicans are committed to securing the border, to building the wall, to making sure that our brave Border Patrol men and women have the resources they need. And what I am most disappointed about is we're likely to hear nothing about our southern border from Joe Biden tonight.
"[Biden] hasn't even gone to the southern border. He has shirked his duty as President of the United States to deal with this crisis, let alone how it is impacting every community across America."