Washington, D.C - Today, Congresswoman Elise Stefanik joined Steve Bannon's War Room to discuss her trip to the southern border where she saw firsthand the severity of Joe Biden's border crisis.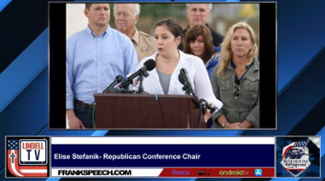 Highlights from the interview include:
On the Tragic Loss of Texas National Guardsman Spc. Bishop Evans:
"Our heart breaks as a nation for the loss of Specialist Bishop Evans who lost his life. And as you said, he laid down his life, he jumped into the water to save those who were illegally crossing and reportedly trafficking drugs into our country. What a loss for Texas. What a loss for the United States of America."
On the Toll Biden's Border Crisis Takes on Our Border Communities and Law Enforcement:
"We met with ranch owners, local business owners, these are grown middle-aged men who are strong Texans, broke down in tears to talk about just the risk of their livelihood, the risk to their family members, the fact that their children have to make sure they are carrying pistols on their property to protect themselves. That's why our Second Amendment rights are so important. But this is an invasion at our southern border."
"We know that President Trump's policies were working. You hear that not just from Republicans, but from locally elected Democrats, [who] say that President Trump's policies were working, and it's been a catastrophe under Joe Biden."
"What you hear from the border patrol leaders and the Border Patrol folks on the front line is this is going to get so much worse with the lifting of Title 42, and Joe Biden and House Democrats, they do not care."
"This is a crisis. It impacts every community across the country, including mine in Northern New York, where I represent border patrol families. And those officers have been transferred over and over and over to the southern border, which not only doesn't meet our needs at the Northern Border, but it just shows the stress that these border patrol heroes are under every single day."
On How House Republicans are Holding House Democrats and the Biden Administration Accountable:
"We have used every legislative tool possible to fight back against the Biden Administration's open border, amnesty policies."
"I'll tell you what we're doing this week. We have Secretary Mayorkas testifying in front of multiple committees, the House Judiciary Committee, House Homeland Committee. Our Republican Members are prepared. We're prepared to hold him and Joe Biden accountable for their dereliction of duty."
"Where have they been last year fighting against Joe Biden's failed policies? We're going to hold [House Democrats] accountable in the hearings, but we're gonna hold them accountable on the House floor."
On Biden's Border Crisis Worsening:
"It is an invasion. You do not have a country if you don't have secure borders."
"Even though I'm along the Northern Border, because I hear from the border patrol officers weekly in my district about the challenges on the southern border, in addition to law enforcement leaders in my district at the state and local level, who are seeing skyrocketing overdoses when it comes to the fentanyl crisis. That's all coming in across the southern border.
"Every single member of House Republicans understands that this is not just the southern border crisis. Every state, every county, every city, every town in America is a border state, county, city, town. So every district is a border district."