Washington, D.C. – Congresswoman Elise Stefanik today toured Eagle Pass, Texas in the Deal Rio sector and heard directly from border patrol officers and members of the community on the horrific impact of Joe Biden and House Democrats' open border policies ahead of the Biden Administration ending Title 42.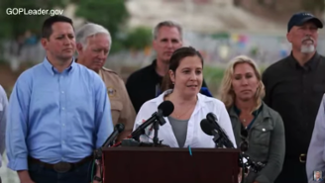 "Today in Eagle Pass, I saw firsthand the crisis Joe Biden and House Democrats' open border policies have created for our entire country,"
Stefanik said.
"Every district across the nation is a border district. I represent border patrol officers who have been transferred over and over again to our southern border. We are witnessing a humanitarian and national security crisis because Joe Biden has fueled the work of cartels and undermined the critical work of law enforcement. This has already incentivized millions of illegal immigrants to cross our border, led to hundreds of thousands of illegal immigrants being released into our communities, and increased the flow of deadly fentanyl and dangerous criminals flooding into the United States over our southern border. Now, the Biden Administration's proposal to end Title 42 will significantly worsen this crisis, burden border patrol even more, and make communities across the country less safe. We must stand with our border patrol officers and secure the southern border."
Stefanik joined Republican Leader Kevin McCarthy and Representatives Tony Gonzales (TX-23), Randy Weber (TX-14), Michael Guest (MS-03), Chip Roy (TX-21), Marjorie Taylor Greene (GA-14), Diana Harshbarger (TN-01), and Blake Moore (UT-01).
Title 42 is currently the most effective tool at the disposal of U.S. Customs and Border Protection (CBP) to deter migrants from attempting to cross the border illegally. With a set date of May 23, 2022 for its expiration in place, human smugglers have ample time to prepare to transport migrants to the border upon the termination of Title 42.
Stefanik joined her colleagues in
filing
an amicus brief in support of the Title 42 injunction lawsuit filed by the Louisiana, Arizona, and Missouri Attorneys General and has
called out
the Biden Administration for their proposal to eliminate Title 42.
She has introduced the
Upholding the Law at Our Border Act
to ensure our immigration laws are being upheld at the Southern Border and the
BE GONE Act
to block and deport immigrants trying to enter the U.S. who have been convicted of sexual assault. She has also
led the push
to hold Biden to cease any transportation of migrants from the Southern Border to New York State.