Washington, D.C. – Today, Congresswoman Elise Stefanik joined Congresswoman Ashley Hinson (R-IA) on Fox & Friends to discuss their letter to the Federal Drug Administration (FDA) Commissioner Robert Califf urging the Biden administration to address the critical shortage of baby formula throughout the country, which has left mothers struggling to feed their babies.
Chairwoman Stefanik has been leading on this issue for months. In February, Stefanik sent a letter calling on the FDA to address safety concerns regarding baby formula following a recall of powdered formulas after reports of related illness in infants.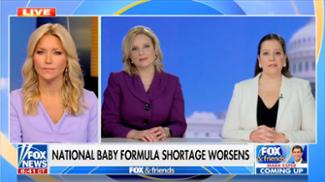 Watch to the full interview here.
Highlights from the interview include:
On experiencing this crisis firsthand:
"This is a crisis across America, I can think of no more harrowing crisis for parents as they are desperately trying to find access to baby formula. Sam is nine months, he is formula fed. We are lucky in the sense that there's not a particular brand of formula but for health issues. Some babies only take a certain type of formula."
"The shelves have been fairly empty in upstate New York, and I'm hearing from parents all across America."
On demanding the Biden administration take action quickly:
"I actually saw this crisis coming and demanded the FDA respond in February of this year, when there was the recall of the Sturgis Michigan plant."
"We want to make sure that there is a plan, and we have seen no plan from Joe Biden or the FDA."
"There's no excuse. They absolutely should have had a plan months ago. As I said, we saw this crisis coming, and there was no response. When I reached out and wrote a letter to the FDA, there was no substantive response about how they were going to address this supply chain crisis."
"What did we hear from President Joe Biden yesterday? We heard no plan and him trying to continue to pass the buck. As President of the United States, you are responsible for leadership in this country, moms and dads, and I will tell you grandparents across America are so, so concerned about this."
On House Republicans' plan:
"We're focused on demanding action from the FDA, demanding action from this administration, working directly with the manufacturers working with our hospitals to make sure that we have an acceptable supply of baby formula, and then also making sure that parents know where to go if the shelves are empty at the stores."
"This is exacerbated during this inflation crisis, where people are already challenged to balance their daily budgets. And yet, they're having to drive, with the historically high cost of gas, miles and miles for hours to get what they need to feed their children."