Paul Smiths, New York – Congresswoman Elise Stefanik today honored the legacy of Charles Minot "Minnie" Dole, who founded the National Ski Patrol and helped create the 10th Mountain Division as we know it today.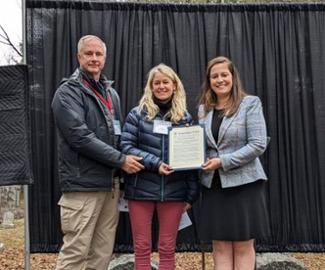 "I am proud to honor the enduring legacy of Charles "Minnie" Dole and his impact on the founding of the National Ski Patrol and formation of the 10th Mountain Division," Stefanik said. "He saw potential for how his passion for skiing could serve our nation, and because of his advocacy, he established the 10th Mountain Division as the elite fighting force we know it to be today. The North Country is the proud home to the most deployed Army Division since 9/11 because of his vision."
Dole founded the National Ski Patrol to supply first aid and rescue support at ski venues in 1938. During World War II, Mr. Dole convinced the United States War Department to form the United States Army Ski Troopers in the 10th Mountain Division to combat Germans on the mountainous Italian terrain. During the event, Stefanik presented a Congressional Record to recognize this enduring legacy.