Washington, D.C. - Today, Congresswoman Elise Stefanik joined House Republicans in welcoming Congresswoman Mayra Flores to the 117th Congress.
Republicans are winning on the issues that matter to the American people, and Congresswoman Mayra Flores is proof of that. Her victory has brought us one step closer to firing Lame Duck Speaker Nancy Pelosi once and for all.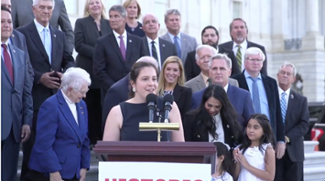 Read her full remarks below:
From California to Texas to New York, Americans are uniting behind Republicans like our newest member, Mayra Flores and Connie Conway, who was sworn in last week, because families know they cannot afford to live under Democrats' Far-Left failed Socialist rule.
In less than two cycles, House Republicans went from only 13 Republican women to 35, and we are just getting started. This year, we have the most diverse Republican candidates running for Congress in history. The American people want and deserve a new direction.
Democrats have created crisis after crisis - from inflation to the border to crime to the baby formula shortages - over 70% of Americans think the country is going in the wrong direction, which is why they are voting for a new, better direction supporting Mayra Flores.
The momentum is on our side. Americans are uniting behind our House Republican agenda, because we will continue to be laser-focused on the issues that actually matter to the American people.
We are just a short few months away and four seats from firing Lame Duck Speaker Nancy Pelosi once and for all. And today, Congresswoman Mayra Flores brought us one step and one seat closer.