Washington, D.C. – Today, Congresswoman Elise Stefanik joined Just The News with John Solomon. She discussed the Democrats' sham January 6th committee and slammed Lame Duck Speaker Pelosi for her lack of transparency regarding why the Capitol was left so ill-prepared on January 6th.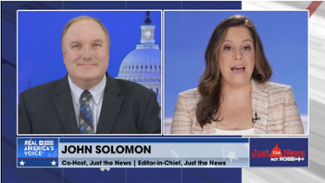 Watch her full interview here.
On the need for transparency regarding Speaker Pelosi leaving the Capitol ill-prepared on January 6th:
"I know my Republican colleagues have a lot of questions but the American people have a number of questions. Why was that intelligence only shared with Chuck Schumer's office? Why was it treated as political and not just sheer intelligence? Why was that not shared with the U.S. Capitol Police on the frontlines? Why was that not shared with Republican leadership? Again these are bipartisan institutions. My question is also why Speaker of the House Nancy Pelosi has refused to turn over any documents.
"We deserve to have full transparency into what her office knew, why they refused to support President Trump's request for the National Guard, what intelligence they received, and why they left the Capitol so ill-prepared.
"We know that the Capitol Police was half-staffed. We know that they weren't provided with adequate training, that they had expired equipment. All these questions are really important to make sure that the violence on January 6th, which Republicans have condemned, never happens again and that we have a secure, functioning U.S. Capitol.
"And I want to juxtapose that with what we are seeing, violence and death threats against Supreme Court Justice Kavannaugh. Just this week, Democrats have failed to address that significant security threat. And yet Republicans are ready and willing and have a bill that we would like to vote for on the floor to improve that security. Same goes for the Capitol, the Democrats have failed to put in those measures to make sure the Capitol is secure."