Washington, D.C. – Today, Congresswoman Elise Stefanik joined House Republican Whip Steve Scalise, Republican Conference Secretary Richard Hudson, Republican Leader of the Judiciary Committee Jim Jordan, and Congressman Jim Banks to set the record straight on Speaker Pelosi's illegitimate January 6th Committee. Lame-duck Speaker Pelosi and House Democrats continue to focus on their political witch-hunt rather than the countless crises facing the American people as a result of their Far-Left agenda.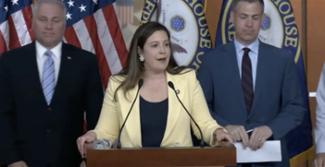 Below is a transcript of her full remarks:
Good morning.
Today, I am joined by my colleagues Whip Steve Scalise, Ranking Member Jim Jordan, Congressman Richard Hudson, and Congressman Jim Banks.
Our hearts, just like every heart across America, are shattered for the families suffering from the unimaginable tragedies in Uvalde, Texas and Buffalo, New York.
And I want to commend our colleague Tony Gonzales for his strong and compassionate leadership. He represents Uvalde and has been spending time over the past district work period meeting with so many of the families, so many of the community members devastated by this horrific, horrific mass shooting.
In our districts across America the past two weeks, I will tell you, Americans are struggling. Daily, they are faced with historically high gas prices that have now DOUBLED since President Biden took office, over 70% of our nation's baby formula is out of stock, homicides are up nearly 50%, inflation is at a 40-year high, and one of the largest migrant caravans ever is headed to our nation's southern border.
And yet, House Democrats have no agenda for Americans and no real solutions to the problems that we face on a daily basis.
Instead, what are Democrats focused on? They are scrambling to change the headlines, praying that the nation will focus on their partisan witch-hunt instead of our pocketbooks. It will not work.
Just this week, Nancy Pelosi's illegitimate January 6th Committee secretly hired the former president of ABC News, James Goldston, to produce this shameless primetime show. This is the same producer that covered up victims of Jeff Epstein.
This further solidifies what we have known from day one: This Committee is not about seeking the truth - it's a smear campaign against President Donald Trump, against Republican Members of Congress, and against Trump voters across this country.
This Committee is unconstitutional, it is illegitimate, it was not put together according to the rules of the House, it does not serve any true legislative or oversight purpose, and it is not about finding out why Nancy Pelosi left the Capitol so ill-prepared that day.
It is designed to punish Nancy Pelosi's political opponents, and it will not prevent another January 6th from happening, and it does nothing to address the numerous crises Americans are suffering from because of Joe Biden and Nancy Pelosi's radical, Far-Left agenda.
So while Democrats obsess over this illegitimate hearing, House Republicans will be setting the record straight and telling the truth about Lame Duck Speaker Pelosi's sham political witch hunt.
And most importantly, we will continue to focus on the important issues that matter facing the American people and how to solve the crises Joe Biden and House Democrats' Far-Left agenda has created -- from the border crisis, to the baby formula shortage, to inflation, to soaring gas prices.