Washington, D.C. – Congresswoman Elise Stefanik, a senior member of the House Armed Services Committee (HASC) and the House Committee on Education and Labor, proposed an amendment during the HASC markup of the National Defense Authorization Act (NDAA) for Fiscal Year 2023. This amendment reinforces that servicemembers with children in Department of Defense Education Activity (DoDEA) schools have the right to be involved in their children's education, while increasing transparency and accountability in DoDEA schools.
Stefanik is standing up for servicemember families after she heard concerns from parents regarding DoDEA schools teaching radical gender ideologies with DoDEA training materials, including a teacher telling other DoDEA teachers at a training session to keep gender transitioning students a secret from parents, who are servicemembers.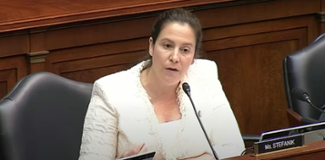 Watch full amendment debate here.
"America's servicemembers have the right to be informed and involved in their children's education, and it is unbelievable that some DoDEA educators do not trust with their own children the very men and women in uniform who keep our nation safe and secure," Stefanik said. "There is no need for elementary school students to be taught radical gender ideology, and parents deserve full transparency from DoDEA schools about what is being taught in their child's classroom. As our men and women serving overseas look out for our own safety, I will continue to stand up for them and protect the rights of our servicemember parents over their child's education."
The Servicemember Parents Bill of Rights provides parents of children attending a school operated by DoDEA the following rights:
The right to review the curriculum of the school
The right to know if the school or DoDEA alters the school's academic standards or learning benchmarks
The right to meet with each teacher of their child at least twice during each school year
The right to review the budget, including all revenues and expenditures, of the school
The right to review all instructional materials and teacher professional development materials used by the school
The right to inspect a list of the books and other reading materials contained in the library of the school
The right to address the school board (domestic) or advisory committee (abroad) of the school
The right to information about the school's discipline policy and any violent activity in the school
The right to information about any plans to eliminate gifted and talent programs or accelerated coursework at the school
This amendment also requires each DoDEA school to:
Notify parents of any medical examinations or screenings the school may administer to their child and receive written consent from parents prior to conducting the examination or screening
Notify parents of any medical information that will be collected on their child, receive written parental consent prior to collecting such information, and provide parents an opportunity to inspect such information at the parent's request.
This amendment passed on a bipartisan vote of 39-19.