Washington, D.C. – Congresswoman Elise Stefanik joined House Republican leadership to highlight the the Biden administration and House Democrats' silence on the countless crises caused by their failed Far-Left agenda, including the continuing acts of violence and intimidation by pro-abortion radicals against crisis pregnancy centers, churches, and other pro-life organizations across the country.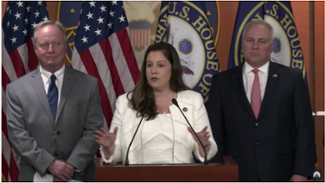 Below is a transcript of her full remarks:
This week, the American people confirmed what we have been saying for months – that the overwhelming majority of voters disapprove of President Biden's handling of key issues.
73% of Americans disapprove of Biden's handling of inflation, 57% of Americans disapprove of Biden's handling of energy, and 59% of Americans disapprove of Biden's handling of the border crisis and illegal immigration.
Yet, House Democrats want to talk about everything except the crises facing our country.
Instead, this week, they are doubling down on their reckless spending with a bloated appropriations package that will only make our economic crisis worse.
Once again, Nancy Pelosi and House Democrats are putting their socialist wish list ahead of the challenges facing our communities.
Inflation is sky high, illegal border crossings are up, and our communities are less safe. This is not a coincidence; this is what happens when one-party Democrat rule fails America.
In my home state of New York, we are seeing a crime wave, including pro-abortion 'activists' firebombed and vandalized an upstate crisis pregnancy center, which cost the center hundreds of thousands of dollars in repairs – critical funds that should have been used to save lives.
This was just one of the over 50 acts of violence and intimidation against pro-life individuals, churches, and organizations since the initial leaked Supreme Court draft.
And what have we heard from Democrats about condemning these? Silence. Crickets.
The Biden administration and House Democrats did nothing about the violent crime wreaking havoc on our businesses, they dragged their feet passing legislation to protect Supreme Court Justices, and now they remain silent about the Far-Left's latest target – crisis pregnancy centers.
Whether it is the crime spikes, the historic border crisis, or the cost of groceries, Republicans remain focused on addressing the issues facing hardworking Americans, while Joe Biden, Nancy Pelosi, and House Democrats are not.