Washington, D.C. – Congresswoman Elise Stefanik today led the New York Republican Delegation in honoring the life and legacy of the Former Chairman of the Conservative Party of New York Mike Long.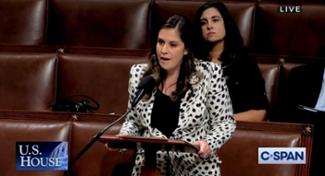 Watch Stefanik's full remarks here.
Below is a transcript of her full remarks:
"On behalf of the New York Republican delegation, I rise today in recognition to honor our good friend Mike Long, the longtime Chairman of the Conservative Party of New York. Mike passed away this week with his beloved family at his side, leaving behind an extraordinary life and legacy.
Mike Long was a man of integrity who lived a life of service above self. He was among the most, if not the most, respected and esteemed political leaders in New York politics by both his allies and his opponents.
Mike Long was proudly born in Brooklyn, New York, and was raised in Southern Queens.
In 1959, Mike enlisted in the United States Marine Corps. He felt strongly that his duty was to our country. And as we know, and this was Mike, once a Marine, aways a Marine.
Mike then served in elected office on the New York City Council and then for decades as Chair of the NY Conservative Party, where he got to know nearly every state and federal Republican and Conservative candidate for public office.
His chairmanship continued for more than 30 years – which is a testament to his character, his work ethic, his leadership, and his determination to make a difference.
In recognition of his strong defense of the rights of the unborn, Saint John Paul II named him a knight of St. Gregory, one of the highest honors for a Catholic layman.
Mike was a champion for hardworking New Yorkers and a lifelong advocate for smaller government, lower taxes, and improving the lives of hardworking New York families.
I, and my colleagues, we were all honored to call Mike a true friend.
When I first ran for office, I had met Mike Long at various Conservative party events, but I set up a formal meeting to seek his advice.
It was in his office in Brooklyn – that's a long way for an Upstate NY native running in the North Country. And I'll be honest, I got lost in the city driving and was hours late for that meeting. It's a pet peeve of mine to be late, and certainly you never want to be late for a Marine. It's a matter of respect to be on time.
Mike couldn't have been more gracious. I will never forget him saying I will probably win my campaign, because I know how to drive in Upstate but clearly not in New York City!
I was proud to earn his support and that of the Conservative Party. My family was honored to have Mike and his wife Eileen at our wedding years later. He is a true life-long friend.
Now, Mike is in heaven among the angels, and our hearts are broken for this truly irreplaceable loss.
As I honor him for his service and an extraordinary life well-lived today, we join together in praying for his beloved family, thousands of friends, and vast community of admirers.