Washington, D.C. – Congresswoman Elise Stefanik, a senior member of the House Education and Labor Committee, advocated for families trying to feed their babies by introducing an amendment to expand baby formula contracting from one to two suppliers in the WIC program during a committee markup of House Democrats' child nutrition bill. When Committee Democrats criticized this amendment, Stefanik shredded their arguments by proving members of their own party have advocated for this change.
Specifically, Stefanik's amendment would address limited options for WIC mothers by ensuring states contract with two baby formula manufacturers, instead of just one.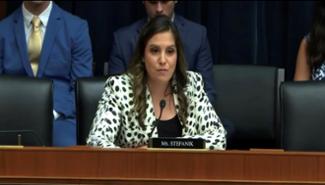 Click here to watch full debate on Stefanik's amendment.
A full transcript of the debate can be seen below:
On the baby formula crisis:
Stefanik introduced her solution by saying, "Thank you Mr. Chairman, the American people have faced crisis after crisis under the Biden Administration. One of the worst, and I say this as a new mom, has been the baby formula shortage, which has caused immense stress and grief for new parents across the country.
"This crisis has been particularly challenging for WIC families, who rely on the program to purchase formula and feed their babies. Thankfully, we came together to pass bipartisan legislation that provided flexibility, so WIC families can access formula during the current crises and put measures in place that will help WIC families if another shortage arises. But what we didn't do then, and this bill fails to do now, is make the necessary changes to the WIC program to prevent this crisis from occurring in the first place. It is another example of how this bill doesn't solve the problems impacting American families today, and my amendment will change that.
On Stefanik's solution to the baby formula crisis:
"My amendment, which has had bipartisan support on this committee, including from sitting committee members, addresses the limited options WIC mothers have for baby formula and the overreliance on a few large formula manufactures. If we adopt my amendment, WIC mothers will no longer be held hostage to these market disruptions.
"Under this amendment states will contract with two manufacturers, rather than just one. States will still get the rebates for formula sold through the program, and manufacturers will still bid for those contracts through the competitive process with the incentive of market share in the state. But by allowing greater competition than what currently exists today with the sole-source contracting model, new formula manufactures will be able to enter the market, benefit[ting] all families, including WIC participants.
On Democrats' record of supporting Stefanik's proposal:
"Some of my Democrat colleagues called for this change during Floor debate back in May, so here is the opportunity to follow those words with action. I urge my colleagues to support this amendment, and I yield back."
Congresswoman Alma Adamsi (D-NC) claimed, "The infant formula shortages over the last several months are not the consequence of WIC's contracting process, but the result of food safety concerns and consolidated operations at Abbott Nutrition."
Stefanik fired back by saying, "This amendment does not change the bidding process, it does not change the rebate or cost containment requirements. It simply ensures states contract with two formula manufacturers, instead of one. Your own member, Ms. Jahana Hayes, said back during consideration of the bipartisan Access to Baby Formula Act, 'It is horrible that in this country, we have a baby milk shortage. I think we have to respond to that and then revisit the way we're structuring these contracts,' calling the sole sourcing contracts and the market advantages they bring, 'a huge problem that many Americans weren't even aware of.' But she also says addressing the contracts 'would require a much larger fix,' than what Congress is currently proposing."
"Now I will tell you as the newest mom in Congress. According to working with my colleagues, they are rationing baby formula on the shelves. They are rationing them. You are limited to two units in Upstate New York when you go to purchase baby formula. Whether you breast feed, whether you formula feed, whether you need a very specific nutritional type of formula, this is a crisis, we do not have time to wait.
"Members of this very committee spoke in support of this amendment on the House floor. And to politicize this issue is indefensible, which is why I'm urging those members that spoke in support of this amendment on the House floor to show some consistency and vote and support this amendment in this markup."
Congresswoman Susan Bonamici (D-OR) repeated the same argument that, "the formula shortages are not the consequence of WIC's contracting process."
Stefanik responded, "We have a legacy of bipartisan issues we've worked on, and this should be one of them, making formula more available to moms and dads and grandparents and babies across this country. I believe you falsely pointed out that this has nothing to do with the formula access and the competition in the market, yet I have a letter from eight Democrat Senators…that says, 'This may merit exploring new ways to bolster competition in the market and ensure formula access for WIC participants, including the possibility of multi-source contracts.' This amendment takes it from one to two. It is the most commonsense amendment to increase access in the marketplace. We know this crisis is the failure of Joe Biden's FDA who brushed this under the rug. The fact that they knew this was going to be a problem, and yet they did nothing, nothing, nothing for months. This should be simple.
On why Republicans are taking action to solve this crisis immediately:
"Every mom and dad across America should know that Republicans are seeking to solve this issue immediately, and our colleagues across the aisle, unfortunately will say one thing on the House floor, and then to vote no… in this committee and don't even show up on this important issue."
"As a new mom, nothing is more important than being able to feed your child. When you represent a rural district like mine, where families have to drive over an hour each way and the formula is getting rationed, this is a small, but important step to help solve this crisis."
Congressman GT Thomson (R-PA) added his support by saying, "Anything we can do to help support young families on this issue is something we can be embracing, and we should be supporting. Let's put politics aside, and let's do the right thing for American families."
Chairman Bobby Scott (D-VA) claimed that this bill was not presented early enough for members to review.
Stefanik responded by saying, "Now, we are no longer debating the substance of the bill, it's about the process. Let me point out the process to the American people. Democrats put forth a 200-page bill that wasn't shared with the Republican members until last night. Mine is a two-page amendment, as I said, it is very simple. It takes it from one to two in terms of WIC contracts. That's pretty simple.
"The stakeholders in my district are the moms, dads, babies, and grandparents. Those are the stakeholders I care about. I am proud to be an advocate for this….I think it's very out-of-touch with the American people that our colleagues across the aisle are claiming process, when this is a two-page amendment, we know who the stakeholders are across the country, they are the parents, they are the babies, they are the grandparents. And my colleagues on our side of the aisle will continue to be the advocates for healthy babies, for parents and grandparents, and healthy futures."
The amendment received bipartisan support but was ultimately rejected by Committee Democrats by a vote of 20-24.