Washington, D.C. – Congresswoman Elise Stefanik, a senior member of the House Committee on Education and Labor, joined Representatives GT Thomson (R-PA), Russ Fulcher (R-ID), and Fred Keller (R-PA) in introducing an amendment to support milk choice in schools during today's committee markup of House Democrats' child nutrition reauthorization.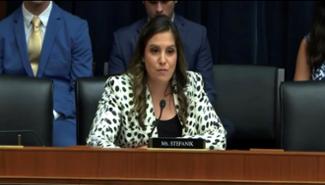 Watch Stefanik's full remarks here.
A transcript of her full remarks can be seen below:
"Thank you, Mr. Chairman. And I thank my colleague Mr. Thompson from Pennsylvania for his longtime leadership on getting whole milk back into schools.
Dairy farmers in Upstate New York and the North Country work hard every day to produce nutritious milk for our communities and families – and all students should have access to this variety of milk options.
Over two-thirds of milk served in schools is flavored, and flavored milk is one of the best ways for kids to get essential dairy nutrients for growth and development.
Parents overwhelmingly recognize the value of flavored milk and know that chocolate milk belongs in schools.
A recent poll revealed that 85% of parents support including low-fat flavored milk in schools.
Yet there have been deeply misguided efforts to ban chocolate milk in schools and take these nutritious choices away from children and families, efforts that we have fought on a bipartisan basis in New York State and efforts that we have won.
Studies have shown that reducing or eliminating the availability of flavored milk in schools leads to less milk consumption and increases food waste.
In addition to restoring whole milk, this amendment includes my Protecting School Milk Choices Act, which will ensure schools participating in the National School Lunch Program offer students at least one flavored option.
It will protect chocolate milk and give all students a range of healthy options in the lunch line.
I urge my colleagues to support this amendment.