Fort Edward, New York – Congresswoman Elise Stefanik today attended a fentanyl briefing led by the Washington County Sheriff's Department to hear firsthand from law enforcement about addressing this epidemic in New York's 21st District. During the meeting, Stefanik discussed Washington County's Overdose Response Dashboard and the Narcotic Task Force.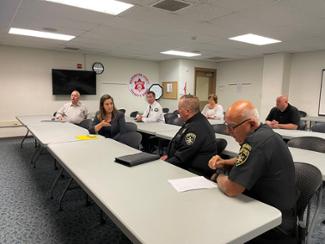 "Fentanyl is the leading cause of death in Americans aged 18-45, and it is devastating to see it increasingly take a toll on our communities with horrific loss of precious lives," Stefanik said. "I am incredibly thankful for our brave law enforcement and first responders who put their lives on the line to keep our communities safe in the midst of this epidemic. Today, I was able to hear directly from our law enforcement, so I can take their concerns and ideas on addressing this crisis to the highest levels. In addition to securing our southern border to end the flow of this lethal drug into our communities, I am committed to making sure our first responders, families, and communities have the resources they need to combat this crisis."
This year, there have been 41 reported overdoses in Washington County from fentanyl, heroin, and prescription pills. In 2021, New York State reported 122 deaths related to synthetic opioids like fentanyl in New York's 21st District.
Stefanik is a supporter of the Halt All Lethal Trafficking of Fentanyl Act (H.R. 6184) to combat this crisis by classifying fentanyl as a Schedule I drug. She is also a supporter of the School Resource Officers Save Lives Act (H.R. 7189) to allow grants to school districts to train and equip School Resource Officers, security personnel, and school nurses to combat the fentanyl crisis' impact in schools.