Johnstown, New York – Congresswoman Elise Stefanik today visited the Walmart Grocery Distribution Center in Johnstown to discuss supply chain issues and employee recruitment and retention.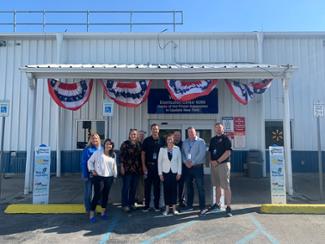 "Across Upstate New York and the North Country, our families and local businesses are feeling the impact of inflation, the supply chain crisis, and the labor shortage," Stefanik said. "Today was an important opportunity for me to witness how our local workforce is addressing these issues and hear their concerns firsthand. Solving the supply chain crisis is critical to combatting skyrocketing inflation for every family in Upstate New York and the North Country, and I am proud to work towards solutions for these issues to support our local workforce and businesses, keep food and products on our shelves, and combat the inflation crisis."
Stefanik supported and voted into law the bipartisan Ocean Shipping Reform Act, which reduces challenges at ports to ease significant supply chain disruptions and helps Americans, including dairy producers, export their products.
Additionally, she has worked to address the labor shortage by leading the Validate Prior Learning to Accelerate Employment Act to accelerate job seekers' return to and advancement in the workforce by more effectively identifying and validating their existing skills gained through prior work experience, military service, life experience, or education. She also led the Employer-Directed Skills Act to empower America's job creators to provide skills development opportunities that equip workers for in-demand jobs.