Washington, D.C. – Today, Congresswoman Elise Stefanik joined Mornings with Maria to discuss House Republicans' commitment to a government that's accountable and demand answers on behalf of the American people from the the Biden administration for politicizing the Department of Justice against conservatives and their political opponents. Stefanik is also leading the charge in demanding transparency from the FBI following the deadly Schoharie limo crash that tragically took 20 lives.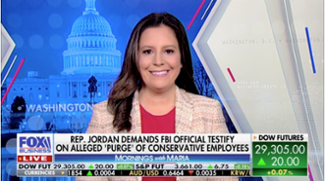 Highlights of her interview are below:
On the politicization of the Department of Justice under the Biden administration:
"This is the same agency that had a politicized attack, whether it was the faulty FISA applications, whether it was perpetuating the Russia collusion hoax, or whether it was targeting parents as domestic terrorists. The FBI has been weaponized and politicized to go after Democrats' political opponents and of course, most recently the outrageous raid of Mar-a-Lago targeting President Biden's most likely 2024 opponent, and that of course is President Donald Trump.
"The story continues to change from the FBI. They continue to push out different facts, different narratives to the mainstream media. What I want to ensure is that all the information, all the leadup to this very egregious raid, which is a significant overstep, who made the decision to sign off on the raid. What was the justification for the raid? That all needs to be submitted to Congress."
"There have been over 14 whistleblowers that have reached out to House Republicans, specifically Ranking Member Jim Jordan, our leading Republican on the Judiciary Committee, saying that the FBI is targeting conservatives internally, they have been revoking security clearances, which is the first step essentially to firing these individuals."
"In a House Republican majority, the subpoenas are coming. Jim Jordan has already requested Attorney General Merrick Garland preserve the documents, and they will be called to testify, because we will ensure that the FBI is accountable to the American people."
On demanding answers from the FBI following the deadly Schoharie limousine crash:
"There should be resignations at the top. I believe Christopher Wray should resign for a number of reasons, it even goes to the local level—we've seen the FBI refuse to provide transparency for a deadly limousine crash in my district where the owner of the limousine company was a longtime FBI informant."
On demanding accountability from the FBI in a Republican majority:
"It comes from the top, and they continue to stick their head in the sand, and they continue to politicize this. Again, this is the same agency that colluded with Big Tech to suppress the Hunter Biden laptop story leading up to the 2020 elections. That is election interference. And the FBI has refused to answer questions from Congress."
"In a House Republican majority, we will not only subpoena those individuals, but we will hold them accountable. The American people are losing faith in these agencies because they are smart and because they see the politicization. We should never have a two-tier justice system in this country."
"But again, the American people are smart. They see this for what it is. They see that the FBI, they see that the leadership of the FBI continues to do everything that they can to target President Trump but also target the American people, target patriotic Americans who are conservatives. So we will hold them accountable."
"We have oversight over these agencies, and the FBI believes they are accountable to no one when they are accountable to the American people. It is our job as members of Congress and we intend to do it in a House Republican majority. Chris Wray has avoided appearing except for one open hearing in front of the House Intelligence Committee. I can tell you that Chris Wray will be sitting in front of me as a member of the House Intelligence Committee in a House Republican majority."