Washington, D.C. – Congresswoman Elise Stefanik today pushed for transparency and accountability for Former Governor Andrew Cuomo's criminal nursing home order and Governor Kathy Hochul's complicit involvement during the House Select Subcommittee on the Coronavirus hearing on the impact of coronavirus in nursing homes. Although she is not a member of this subcommittee, due to her leadership fighting for accountability for Cuomo's deadly nursing home order and coverup and her work to conduct oversight on these unnecessary deaths, she was asked to join this push for transparency.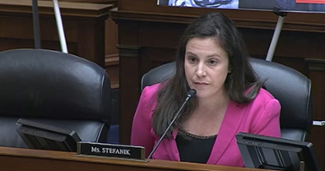 Watch Stefanik's full line of questioning here.
Highlights from the hearing include:
Stefanik thanked Mr. Daniel Arbeny, the son of a deceased nursing home resident, for joining the hearing as an advocate for New York families.
On the Reality of Cuomo's Deadly Order:
"I want to start on March 25th," Stefanik said. "Governor Cuomo issued that fatal directive forcing nursing homes to accept COVID positive patients. Did you consider that a death sentence for the most vulnerable in New York's nursing homes?"
Arbeny replied, "We absolutely did. Not just myself, not just my siblings, but everybody we spoke to, whether they were in nursing homes, whether they were in hospitals, we all were dumbfounded because we knew the U.S.S. Comfort was sailing in. Unfortunately, five days later, NYC had 3,000+ beds that were never used."
"It was a disaster," Stefanik agreed. "I've spoken with constituents in my district in New York 21 who lost their loved ones in nursing homes in the North Country and Upstate New York. But I want to point out everyone knew Governor Cuomo and Lieutenant Governor Hochul's directive was not in accordance to CMS guidance."
Stefanik then pointed out that Secretary of Health and Human Services Alex Azar said that "there is no CDC guideline saying you should be taking positive COVID patients and put them back in the community in nursing homes. She also pointed out that Centers for Medicare and Medicaid Services (CMS) Administrator Seema Verma said that, "Under no circumstance should a hospital discharge a patient to a nursing home that is not prepared to take care of those patients' needs," and that when asked directly would New York State's guidance have violated CMS guidance, she answered yes.
"This was a death sentence," Stefanik stated. "Isn't it true that only four days after issuing that directive, during Andrew Cuomo's press conference, he himself said that 'Coronavirus in a nursing home is a toxic mix' and can be like 'fire through dry grass.' Isn't that true that he said that?'
"He said that multiple times," Arbeny confirmed.
"So Governor Cuomo knew, and they worked overtime to cover this up," Stefanik continued. "As families came forward, they tried to reach the governor and share their views, as well as nursing home workers. But what was the governor focused on? He was focused on winning his Emmy, which has since been taken away from him, and he was focused on cooking the books, withholding the numbers, so he could get his $5.2 million book contract, which was unethical."
On Governor Kathy Hochul's Failure to Investigate:
"I will always fight for transparency and answers," Stefanik said. "Since Governor Cuomo has been forced to resign, Kathy Hochul, who was the sitting lieutenant governor, promised to fight for transparency. She lied when she said that. Can you talk about your family's experience working with other advocates reaching out to Kathy Hochul and what she has failed to do?"
Arbeny showed his father's death certificate, which he said was shown to Hochul, who he said claimed she mortified that no one could tell their family if their father's death counted and that she wanted an accurate death count.
"Unfortunately, nothing has happened, and as best we have been told, they won't be looking back, they want to look forward," Arbeny testified.
"She lied, and she continues to delay any investigation," Stefanik said. "She has refused to respond to Congressional outreach from myself, Ranking Member Scalise, Ranking Member James Comer. Isn't it true that the State Senate, which is held by Democrats, they've refused to do a fulsome investigation into this?"
"Yes, they have not done an investigation with subpoena power, and they have whitewashed it." Citing the NY AG and Comptroller's 2022 report, Arbeny continued to say that their findings reveal that "at the very highest levels in our state government, we were lied to for their narrative."
On Oversight in a Republican Majority:
"Help is on the way. The subpoenas are coming. House Republicans are committed to standing up and demanding answers and justice for those families that our colleagues across the state and across the aisle have failed to do. The subpoenas are coming. Help is on the way," Stefanik concluded.