Washington, D.C. – Today, Congresswoman Elise Stefanik joined House Republican Leadership in a press conference to call attention to the complete failures of Democrats' Far-Left, one-party rule and how House Republicans, through Leader Kevin McCarthy's task forces, are working to advance real solutions and stand up for the American people.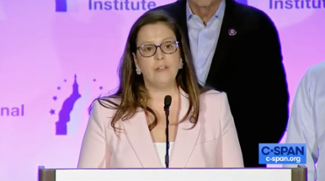 A transcript of her full remarks can be found below:
As House Republicans gather here, the stakes in our country could not be higher. Families across America have suffered crisis after crisis in just a little over one year of Far-Left Democrat one-party rule in Washington.
As both the Leader and the Whip pointed out, Americans are facing the worst inflation crisis in 40 years, struggling to make ends meet.
They are paying the highest price for gas at the pump in our nation's history. But that's not all. Americans are also facing a historic border crisis, a worsening crime crisis, and now, yet another global national security crisis.
These crises, make no mistake, have been created by President Biden and House Democrats' failed leadership and reckless policies.
And yet, despite this, President Joe Biden, Speaker Nancy Pelosi, and House Democrats are doubling down on this failed agenda and trying to pass the buck for the pain they are causing American families.
But, I'm a believer that the American people are smart. They know that they cannot afford Democrats' Far-Left Socialist agenda any longer. According to a new poll, 60% of Americans disapprove of President Biden
.
It has never been more crucial for House Republicans to save America. We remain unified in our mission to fire Lame Duck Speaker Nancy Pelosi once and for all and put forward solutions for hardworking families: fighting for American energy independence by unleashing American-made energy jobs that will create tens of thousands of jobs and unleash economic growth, securing the border, supporting law enforcement and addressing the crime crisis, peace through strength, holding the Chinese Communist Party accountable, reigning in the trillions of dollars of reckless spending, defending and standing up for our Constitution, and standing up for parents when it comes to their kids' education.
The retreat is focused on this forward-looking agenda, our commitment to America, and today you're going to hear from the leaders of each of Leader McCarthy's Task Forces who are working to develop and advance these policies.