Washington, D.C. – Congresswoman Elise Stefanik questioned Federal Bureau of Investigations (FBI) Director Christopher Wray on the FBI's involvement in the tragic limousine crash in Schoharie, New York at today's House Permanent Select Committee on Intelligence's hearing. During the hearing, Stefanik pressed for accountability on behalf of the Upstate New York families tragically torn apart by the October 6, 2018 limousine crash in Schoharie County, which Stefanik pressed could have been avoided had the FBI not turned blind eye to the long history of negligence of the limousine company and its owner, a longtime FBI informant.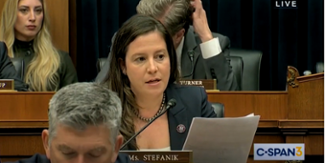 "The owner of the limo company - Shahed Hussein - was a longtime informant of the FBI for prominent antiterrorism cases in the War on Terror who testified publicly in numerous high-profile, federal cases. It is our job in Congress to conduct proper oversight of the FBI's activities, including the proper and improper use and handling of informants,"
Stefanik stated.
Stefanik made the case that, as an informant, Hussein had multiple run ins with the law and various state and federal agencies, that miraculously were brushed away. He lied on tax returns and immigration papers, misled FBI handlers, committed bankruptcy fraud, and racked up hotel code violations and tens of thousands in unpaid property taxes with no consequences.
"I believe that this deadly limo tragedy, the biggest transportation tragedy could have been avoided had we addressed the illegal acts of this FBI informant. And the FBI owes families answers. There's been extensive reporting on this issue,"
Stefanik stated.
Stefanik then pressed FBI Director Wray for answers on the FBI's involvement with Shahed Hussein and any role the FBI played in the charges against the Hussein family after the limousine crash in Schoharie.
"Once a relation is established with an informant, does the FBI allow an informant to engage in criminal behavior that is not related to the case, in this case, the anti-terrorism cases or investigations that they are informing on. Yes or no?"
Stefanik asked.
"There are very specific and somewhat detailed and lengthy policies and guidelines that govern how we use confidential sources,"
Wray said
and mentioned he would have his staff follow up.
Stefanik responded that no, Director Wray would be required to respond directly.
Stefanik stands up for Schoharie County families
"I would expect you to follow up with me directly. We're talking about twenty innocent lives. To give you a sense of the impact on what these families experienced. One father who lost his two sons was so destroyed by the crash that he suffered a series of strokes and now can no longer remember having children. One mother lost her son and daughter-in-law is now, as a grandmother, is the guardian for their two children aged 4 and 7...The first responders stated "the carnage was so extreme that veteran paramedic attending the crash site, who I've met with, developed disabling mental health issues. So I expect a response from you directly,"
Stefanik said.
Stefanik pushes for accountability
"In this case of Shahed Hussain, was the FBI aware that his company, Prestige Limousine, repeatedly violated New York State transportation laws while he was an FBI informant?"
Stefanik asked.
"I have to tread very carefully whenever we talk about somebody as a source,"
Wray said.
Stefanik closed her line of questioning with a push for accountability and requested all FBI documents related to Shahad Hussain, his companies, and any documents and correspondence related to the investigation and trial of the 2018 accident involving Prestige Limousine, making clear she will use subpoena power in a Republican Majority if these records are not turned over.
"I am requesting for you to work with us. I will not hesitate to compel [these documents], particularly next year, to issue a Congressional subpoena with support from my colleagues because these families deserve answers,"
Stefanik said.
In 2019, Stefanik
introduced
with Congressman Paul Tonko (D-NY-20), and Congressman Antonio Delgado (D-NY-19) introduced a set of bills to enhance limousine safety in response to the tragic accident in Schoharie, NY. In 2020, Stefanik
urged Congress
to pass this comprehensive package to close the gaps in the law to ensure limousines meet federal safety standards, strengthen inspection requirements, and direct research to guide further updates to limousine safety limousine safety reform package regulations.
Watch her full line of questioning
here
.