Washington, D.C. – Today, Congresswoman Elise Stefanik joined House Republican Leadership to highlight how House Republicans are ready to govern and deliver results to the American people and how Joe Biden and House Democrats' poll numbers are tanking due to their failed policies that are hurting the American people.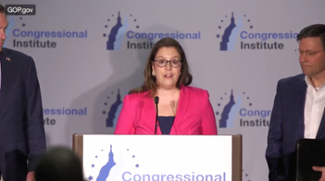 A transcript of her remarks can be found below:
We're going to hear from each of our task force leaders who will put forward their solutions for a more secure and prosperous America.
This is following a number of listening sessions that we have been having since the beginning of the year, and every member of the Republican Conference is going to have an opportunity to share their views, share their legislative ideas, and share what they are hearing from their constituents.
We're kicking off the day with Congressman John Katko. He's the leader of the American Security Task Force, who's been very focused on cyber threats, the crime crisis in America, as well as making sure that we are supporting our law enforcement.
We're then going to hear from Patrick McHenry, who's the Republican leader on Financial Services. His task force is Jobs and the Economy, clearly top of the mind issue, particularly with inflation, the energy crisis, and the labor shortage across the country.
We'll then hear from Ranking Member Michael McCaul, our ranker on House Foreign Affairs Committee. He leads the China Accountability Task Force, to talk about Republican proposals to hold the Chinese Communist Party accountable for their malign actions on the world stage. This is building on Mike's exceptional work with the China Task Force, which I was proud to be a member of in the last Congress.
We're then going to hear from Cathy McMorris Rodgers, the ranking Republican on Energy and Commerce. She's leading the Task Force on Big Tech Censorship and Data, then Garret Graves, our colleague from Louisiana, who leads the Energy, Climate, and Conservation Task Force, and Jim Jordan, the Ranking Member of the Judiciary Committee, who leads the Task Force on the Future of American Freedoms, and lastly, Brett Guthrie and Vern Buchanan, who co-lead the Healthy Future Task Force.
For our lunch speaker, we are honored to host via zoom former U.S. Secretary of State Condoleezza Rice. We are grateful she is speaking to us today to share her insight and significant expertise in the face of the national security crisis we face today in the war on Ukraine.
And then our keynote speaker for dinner this evening is Vivek Ramaswamy, who is the author of
Woke, Inc.
a best seller, and he not only has a tremendous background as a successful entrepreneur, he, I think, has really hit a chord sharing with Americans the dangers of the Far-Left woke movement and how to return to a culture of American excellence.