Washington, D.C. –
Today on the House floor,
Congresswoman Elise Stefanik called on House Democrats to join Republicans in taking legislative action to combat the crisis on the southern border and immediately consider the
PAUSE Act of 2021
(H.R. 471) to ensure Title 42 stays in place.
This legislation, introduced by Congresswoman Yvette Herrell (R-NM), would provide for stringent enforcement of Title 42, a public health order which allows illegal immigrants to be quickly expelled. It would also prohibit the Department of Health and Human Services and Department of Homeland Security from weakening Title 42's implementation.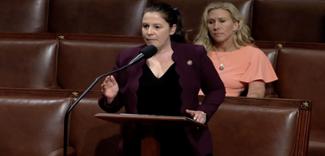 Full transcript of her remarks below:
"I rise to oppose the previous question so that we can immediately consider H.R. 471, the PAUSE Act, introduced by the gentlewoman from New Mexico, Yvette Herrell, to ensure Title 42 remains in place.
Mr. Speaker, since Joe Biden took office and started implementing his radical open border policies, over 2.4 million illegal immigrants have been apprehended at our southern border.
We just had the highest number of border encounters in the past 20 years - over 220,000 in March alone.
In FY 2022, CBP seized hundreds and hundreds of thousands of pounds of drugs and thousands and thousands of pounds of illicit fentanyl, the leading cause of death for adults aged 18-45.
And what's worse over 40 people on the U.S. terror watch list were encountered at our U.S. southern border.
And just today, Secretary Mayorkas when asked if those individuals on the U.S. terror watch list had been released into the United States of America, he could not answer that question. That should stun every American. That is unacceptable that the Secretary of Homeland Security cannot answer a question about whether those dangerous terrorists have been released in to the United States of America.
In fact, just yesterday in previous testimony, Secretary Mayorkas claimed that the Biden administration has "effectively managed" the crisis at the southern border and delusionally believes that the southwest border is somehow secure.
Let me tell you something. The American people are smart. There is nothing effective about this border crisis. No good management has come from the Biden administration when it comes to the southern border.
This has been an invasion. Just look at the numbers. President Obama's own Secretary of Homeland Security, Jeh Johnson, said that 1,000 apprehensions would be a day would be a crisis. We're already at the 7,000 mark, and we could see upwards of 18,000 a day if Title 42 is lifted.
I just came back with my colleagues on a Congressional Delegation from Eagle Pass, Texas in the Del Rio sector of our southern border. This was a delegation led by Republican Leader McCarthy hosted by our colleague Tony Gonzales, who has been such a tremendous voice standing up for his constituents and border patrol officers and their families.
It was a somber day.
Just hours before, our border patrol identified the remains of Texas National Guardsman Specialist Bishop Evans. In fact, I had the opportunity to go on the boat with the Riverine border patrol officers, the two individuals that actually identified the remains.
God bless Bishop Evans. God bless his grandmother, who has laid him to rest.
This is irresponsible of Joe Biden, and Joe Biden, Secretary Mayorkas, and this administration must be held accountable.
We also spoke to ranchers and local leaders and local elected officials. And they broke down in tears talking about the risks to their livelihood and their families. One rancher told us his children needed to carry pistols if they wanted to go outside and play in the yard, because they need to protect themselves as droves of illegal immigrants cross their property.
And you know who they blame? They blame Joe Biden. They blame this administration, who have turned their backs on having a secure border, turned their backs not just on the people of South Texas, but the people across this country.
We also witnessed a processing facility where illegal immigrants were given brand new iPhones and just released. I thought they were doing facial recognition technology to run through a list. No. They were doing facial recognition technology to hand the illegal migrant their cell phone, paid for by U.S. taxpayer dollars.
This is a crisis. Every district across the country is a border district. Every state is a border state.
On top of that, we have all seen flights in the middle of the night, relocating illegal immigrants to other states across the nation, including my home state of New York. This current situation is untenable and our systems are well beyond their breaking point. The drug crisis caused by our porous border is reaching every part of this country, causing deaths in every Congressional district. Every member of Congress needs to step up and secure the border.
Our colleagues across the aisle have had over a year to put forth any bill to secure the border. They have failed to put forth any single bill and now because we're headed towards the November election, they're honestly worried, and they should be because the American people are smart. They know this is the result of their failed policies.
In my district in Northern New York, I'm proud to represent border patrol officers, who have been transferred over and over and over again to the southern border. They are stepping up to do their job. They are stepping up to address this catastrophe caused by Joe Biden. House Republicans are going to be unified. We stand behind the PAUSE act to make sure Title 42 remains in place which is why we will oppose the previous question. And with that, I yield back."