Washington, D.C. – Congresswoman Elise Stefanik joined House Republican Leadership in a press conference to respond to last night's referendum of Democrats' radical agenda in Virginia and across the nation.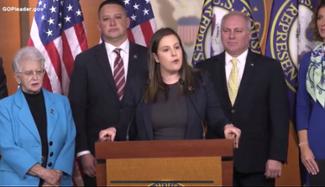 Click here or on the image above to watch the full remarks.
Full remarks below:
"Last night was not just a big night for Republicans, it was a big night for America. Americans across the country rejected President Biden and Speaker Pelosi's radical Socialist agenda.
The question now is, will Washington Democrats finally wake up and listen to the American people who have rejected this far-left agenda. Unfortunately what we've seen is the answer is no. This morning they are doubling down.
What did we learn from last night?
We learned that parents should be empowered to make decisions about their children's education, not the federal government.
We learned that Americans want more jobs, not more government welfare, and reckless spending creating inflation.
Americans want to fund our Police Departments, not defund them.
Americans want freedom, not far-left socialism.
This is the message that united Americans across the country, from New Jersey to New York to Virginia to Texas, it united Americans behind Republicans last night and it is exactly what House Republicans have been saying for months.
Republicans are the party of parents, of education, of small businesses, of freedom, and family.
Democrats are the party of big government socialism creating crisis after crisis. Even after their losses, Nancy Pelosi doubled down on her agenda yet again this morning, and that is exactly why she is a lame duck Speaker of the House.
Republicans have a better, optimistic vision for our nation, and we will continue to talk about the issues that matter to the American people."