Washington, D.C. – Today, Congresswoman Elise Stefanik joined her colleagues on the House Permanent Select Committee for Intelligence to discuss the political weaponization of the FBI and DOJ and called for an immediate investigation into the FBI raid on President Trump.
Stefanik also called out the FBI for failing to provide accountability and transparency into the deadly 2018 limo crash in Schoharie County.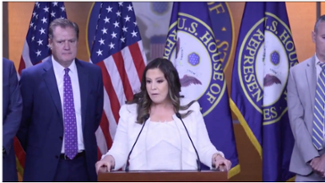 Below is a transcript of her full remarks:
House Republicans are committed to immediate oversight, accountability and a fulsome investigation to provide needed transparency and answers to the American people regarding Joe Biden and his Administration's weaponization of the Department of Justice and FBI against Joe Biden's political opponent.
President Donald Trump is Joe Biden's most likely political opponent in 2024, and this is less than 100 days from critical midterm elections.
The FBI raid of President Trump is a complete abuse and overreach of its authority. And as the American people know, unfortunately, this is the same agency leadership that protected Hillary Clinton, James Comey, and continues to protect Hunter Biden. The same leadership that perpetuated the false Russia hoax for years.
And it's not just these national issues that have led to historic distrust among the American people, it's local issues as well. In my district, the FBI's leadership overreach and politicalization continues to occur.
The FBI continues to stonewall a critical investigation, they're stonewalling providing information and transparency into their role in the deadliest car crash in recent years, where they mishandled a longtime FBI informant. And while some of you national reporters may not know this issue, for reporters in the media in my district this is one of the most important FBI issues that we're facing in upstate New York.
But the American people are smart, they have had enough. It is unfortunately why there is a fundamental lack of trust in these agencies, and the American people deserve answers.
A House Republican majority will leave no stone unturned when it comes to transparency and accountability into the brazen politicization of Joe Biden's DOJ and FBI targeting their political opponents.