Washington, D.C. –
Congresswoman Elise Stefanik spoke out against Democrats' legislation (H.R. 5428) that politicizes school shootings to the detriment of law enforcement and student safety at today's House Committee on Education and Labor markup.
Specifically, this legislation would create more bureaucracy for schools and waste time and resources to report on unnecessary information instead of providing for student safety or supporting school resource officers.
During the markup, Stefanik offered an amendment to H.R. 5428, which would focus the required report on what is actually putting students at risk, including whether the state or locality is implementing dangerous bail reform policies, and whether schools are imposing restrictions on School Resource Officers, or turning to "restorative justice" as an alternative to school discipline. However, the Democrats struck the Stefanik amendment down.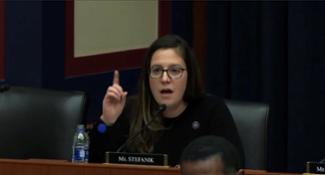 "All parents should be able to send their children to school and let them play in their neighborhood without worrying about their safety. Sadly, under Democrat leadership and because of dangerous defund the police policies and rhetoric, right now too many communities across America are not safe. We are having a crime surge, a crime crisis across America,"
Stefanik said.
Stefanik pointed out that over a dozen cities set new homicide records last year. Since 2019, the homicide rate in the U.S. has increased over 36 percent. Hundreds of law enforcement officers were shot in the line of duty last year and 67 have been shot this year.
"Prolonged school closures and unconstitutional school mask mandates under Democrat-governed states have harmed students' mental health and put more kids at risk of substance abuse. Today's legislation fails to acknowledge this crime crisis and instead seeks to strip law-abiding citizens of their constitutionally-protected rights,"
Stefanik continued
During her remarks, Stefanik pointed out that Democrats' legislation fails to acknowledge any of the realities of Democrat policies that have fueled violence more violent communities and decreased law enforcement presence in schools. Instead, she makes a case that this bill is a stunt to advance the left's radical agenda of stripping law abiding citizens of their constitutionally protected rights.
If Democrats were truly concerned about student safety, Stefanik made the case that they should crack down on their dangerous bail reform policies, end their "defund the police" agenda in schools, and reconsider their ending of school discipline.
"Democrats across this country have implemented dangerous bail reform policies that release violent criminals back into communities and fuel lawlessness. New York State's bail reform even prevents judges from considering the danger an individual poses to the community before releasing them. And no surprise, New York is now facing historic crime wave due to these failed policies,"
Stefanik said.
Stefanik's amendment requires reporting on if the school is in a state or locality that is implementing these radical, Far-Left bail reform policies.
As part of their anti-law enforcement agenda, Democrat members, including members of this committee, support legislation that not only defund the police, but defund School Resource Officers and encourages schools to get rid of them. Some schools have already followed suit and eliminated the use of School Resource Officers or pushed them outside of the school building. I know that I have visited school districts in my community and Democrats, Republicans, and Independents support School Resource Officers. This dangerous, defund the police agenda and policies to our schools puts our students at risk,"
Stefanik said.
Stefanik's amendment simply adds reporting on the school's use of School Resource Officers, including if they have reduced the number of School Resource Officers or imposed other restrictions that keep them from doing their job to keep the school safe.
Stefanik is a cosponsor of the
School Resource Officer Act
to support safety in schools by increasing funding for school resource officers through the Community Oriented Policing Services (COPS) program.
On Ending School Discipline
"Democrats put radical wokeness ahead of student safety and wellbeing by labeling school discipline as racist and coercing schools to replace it with "restorative justice" policies. Quite simply – these policies cater to students who misbehave at the expense of all other students, and can even make victims of violence and bullying sit face to face with their repeated aggressor. The limited evidence that exists on restorative justice found that it harms student achievement and can fuel classroom disorder, yet Democrats used the Department of Education's Office of Civil Rights to pressure schools across the country to adopt it,"
Stefanik said.
Stefanik's amendment adds reporting on whether the school is implementing 'restorative justice' as an alternative to school discipline, how they are measuring its effectiveness, and if they implemented such practices following an investigation from the Department of Education.
Stefanik continued her remarks
here
.
"The American people are smart. If my colleagues across the aisle in the Democrat party want to try and convince the American people that you support the police and the Republicans are for defunding the police – good luck. The American people know, and specifically, in my state of New York, Democrats defunded NYPD by one-sixth. Crime has surged. We have seen New York police officers be slain in the streets by criminals. We have seen historic numbers of retirements from law enforcement officers in this country by states controlled by Democrats who have turned their backs on men and women in blue,"
Stefanik said.
Stefanik pointed out that five members of the House Committee on Education and Labor are on legislation to defund School Resource Officers.
"If we care about safety, if we care about data, we should care about this information, which is why my amendment is very basic. Let's get the data on the defund the police and the crime surge in this country,"
Stefanik concluded.