Washington, D.C. – Congresswoman Elise Stefanik today announced she earned a 100% on the American Energy Alliance's energy scorecard, granting her the title 2022 American Energy Champion.
"In the face of Albany and Washington Democrats' war on American energy that has failed every hardworking family in Upstate New York, I am proud to provide a critical check on their reckless Green New Deal policies that have caused the price of gas and home heating oil to skyrocket," Stefanik said. "It is an honor to earn the title American Energy Champion for my work supporting legislation to drive down energy costs and unleash American energy dominance on behalf of all the families in New York's 21st District suffering from increased energy costs."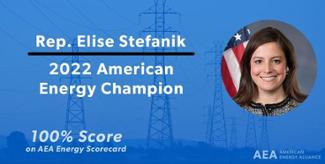 Stefanik has stood up against failed Green New Deal Policies and supported a number of measures to address the energy crisis and drive down skyrocketing prices of gas and home heating oil by unleashing domestic energy production.
The American Energy Alliance's energy scorecard evaluates members of Congress on their work to promote affordable, abundant, and reliable energy; expand economic opportunity and prosperity, particularly for working families and those on fixed incomes; give Americans, not Washington bureaucrats, the power to make their own energy choices; encourage private sector innovation and entrepreneurship; advance market-oriented energy and environment policies; reduce the role of government in energy markets; eliminate the subsidies, mandates, and special interest giveaways that lead to higher energy costs.