Washington, D.C. – Congresswoman Elise Stefanik released the following video statement in advance of Veterans Day: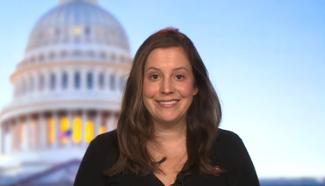 Click here to view full remarks.
Click here to download broadcast-quality footage.
Full Transcript Below:
Hi, it's Congresswoman Elise Stefanik,
It is an honor to recognize our veterans' service and sacrifice to our great nation on this very special day.
New York's North Country is home to tens of thousands of men and women who have honorably served our country.
In fact, we have the most veterans of any Congressional District in New York, and I am so proud to represent each and every one of them.
Their dedication to our country and to our fellow citizens must never be forgotten.
As the chief advocate in Congress for Fort Drum and the 10th Mountain Division, the most deployed Army division since 9/11, I do not take lightly the sacrifices our veterans have made.
Since I began serving the North Country as Congresswoman, I have worked diligently to deliver nearly five million dollars in VA benefits to North Country veterans.
Our veterans selflessly served their country, and now we must make sure that the promises made to them for their services are promises kept .
My office is committed to helping our veterans claim their well-deserved VA benefits.
If you or someone you know has any issue with the VA or any veterans service, please do not hesitate to reach out to any of my offices – in Plattsburgh, Watertown, Glens Falls, or Washington, D.C.
We are here to serve you.
Since my time in Congress, I have worked to introduce and pass legislation to reform the VA, increase access to mental health treatment and benefits, and support our military families.
These are bipartisan issues.
And the North Country's veterans have my commitment that I am working work with my colleagues across the aisle to pass meaningful, commonsense legislation to support them and their families.
Much of my work on veteran policy is due to the many constituent vets in our district that help bring these issues to our office's attention.
Their continued dedication to public service and support for their community is critical.
Our veterans fought for our country bravely, but that service did not come without a cost.
If you or someone you know is struggling, many resources are available to you, your friends, and your family.
Your service is not forgotten.
I look forward to continuing to honor and work for our vets across the North Country.
May God bless our veterans, and may God bless the United States of America.
Thank you.
Washington, D.C. – Congresswoman Elise Stefanik released the following video statement in advance of Veterans Day: