Washington, D.C. – Congresswoman Elise Stefanik spoke at the first-ever House Republican Bilingual Press Conference to discuss Republicans' optimistic vision and how Democrats' Far-Left policies are hurting Hispanic families across the country.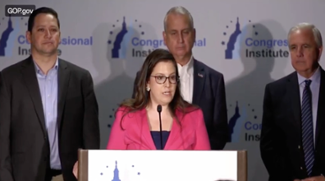 A transcript of her full remarks can be found below:
As you know, House Republicans are unified with our message. And we're here for this annual working retreat as we continue to develop our commitment to America.
President Biden, Speaker Pelosi, and House Democrats' radical, Far-Left agenda has failed the American people. They have sent our nation spiraling into crisis after crisis and are doubling down on these failing policies.
And it's no surprise that Democrat support among Hispanics is plummeting. In fact, Hispanic voters support Republican candidates for Congress over Democrats by nine points, and Republicans are leading on the issues that matter to Hispanic voters.
This is a historic opportunity. Issues like inflation are hitting Hispanic families hard. 61% of Hispanics disapprove of Joe Biden's handling of the economy.
And what is House Democrats' solution? Their same reckless spending that is fanning the flames and fueling the fire of this historic inflation crisis, education policies that take choice away from parents, and an open border that makes our communities across the country less safe.
Hispanic voters want security and safety in their communities, and they overwhelmingly trust Republicans over Democrats to deliver on border security and crime and public safety.
As Republicans we have an optimistic vision for our country that will provide opportunity for EVERY American. We are the party of parents, we are the party of economic prosperity, and we are the party of freedom. And we are ready to earn back the majority in November, and that includes making it a priority to make huge inroads in the Hispanic and Latino communities across our country.
So, I am honored, as the House Republican Conference Chair, to welcome you to the first-ever Bilingual House GOP Press Conference with our Spanish-speaking members.