Hague, New York – Congresswoman Elise Stefanik today honored the service of Sergeant Howard R. Belden, who served in the U.S. Army during the Korean War and has now returned home to Hague, NY.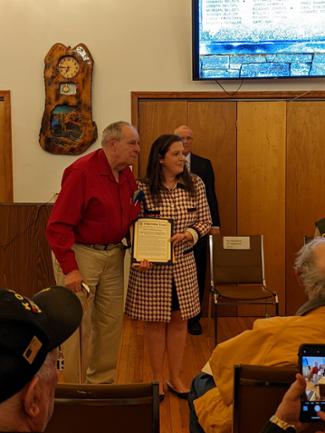 During the ceremony, Stefanik presented the Belden family with a message recorded in the official Congressional Record and a flag that had been flown over the U.S. Capitol to honor Sergeant Belden.
"It was an honor to join the Belden family to remember the legacy of Sergeant Howard R. Belden, who made the ultimate sacrifice for his country when he was killed in action in Korea,"
Stefanik said.
"Finally, Sergeant Howard has returned home, rightfully been honored in his community, and will now be buried with full military honors. America does not rest until every American comes home."
"We are here tonight to honor Sergeant Howard R. Belden, Korean War veteran. When we honor one veteran, we honor all veterans,"
said Tom Mullins, Veterans Advocate at the Rev. Francis A. Kelley Society
Belden was designated as Missing in Action at the Battle of Chosin Reservoir on December 1, 1950 and was presumed dead on December 31, 1953. His remains were identified in 2021 as a result of the 55 boxes of U.S. servicemembers' remains that turned over to the U.S. after President Trump's Summit Meeting with Kim Jong Un. Sergeant Belden will be buried at Arlington Cemetery with full military honors.
The Rev. Francis A. Kelley is a military society founded in Troy, New York in honor of Rev. Francis A. Kelley, a U.S. Army Chaplain during World War I. Their mission is to honor and care for veterans, just as Rev. Francis A. Kelley did before, during, and after World War I.