Plattsburgh, New York – Congresswoman Elise Stefanik today visited Condo Pharmacy in Plattsburgh to address concerns of pharmacies working to meet local healthcare needs.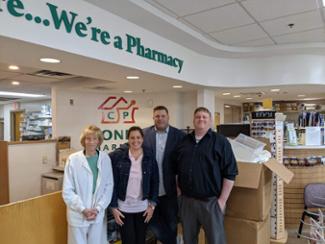 "I am committed to driving down the cost of prescription drugs for families in Upstate New York and the North Country," Stefanik said. "Our local pharmacies play an important role in this, and today, I heard concerns directly from our local pharmacists. I will continue to work to make prescription drugs more affordable and ensure our families and especially our seniors have access to the medications they need."
Stefanik is working to drive down the costs of drugs by supporting the Lower Costs, More Cures Act, a package of over 40 provisions previously introduced to lower out-of-pocket spending, ensure new medicines and cures are not heavily taxed, strengthen transparency and accountability, and champion competition in the medical community.
Stefanik is a strong supporter of the 340B drug pricing program, which offers a lifeline for underserved patients, especially in rural communities, to access affordably-priced prescription drugs, and the Pharmacy DIR Reform to Reduce Senior Drug Costs Act to protect consumers and small businesses by holding Pharmacy Benefit Managers accountable for retroactively assessing fees on pharmacies.