Washington, D.C. – Congresswoman Elise Stefanik today released the following video message to welcome the Northern Border reopening.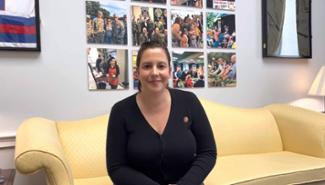 Click here or on the image above to watch the full remarks.
Click here to download broadcast-quality footage.
Full transcript of the video below:
"Finally the day we have been waiting for. On November 8th, the Northern Border is finally reopening.
"This has been an issue I have been working on for the past year.
"I've heard so much feedback from my constituents, from small businesses, from property owners, from family members who have been hurt by the closure of our Northern Border.
"We have worked hard on a bipartisan basis. And while this is far too late, November 8th is here.
"We want to make sure that this border reopening is as smooth as possible. I will continue to work with our Customs and Border Protection Officers, as well as hear feedback from my constituents as to the reopening process.
"We also will work to continue to strengthen our U.S.-Canadian economic ties and broaden our friendship and cultural ties that are so important to the North Country."
Details on the Reopening Include:
Vaccinated non-essential travelers can cross into the U.S. from Canada by land or ferry starting on Nov 8.
Unvaccinated essential travelers can continue to cross – this is set to change in January 2022.
For nonessential travel, both countries require proof of vaccination.

The U.S. will require a copy of a document and verbal affirmation.

Mixed doses of accepted vaccines are allowed.
No test is required for land crossing into the U.S.
Canada is still requiring proof of a negative test within 72 hours of travel to enter Canada.
Children under 18 will be exempted from vaccine requirement for land crossings into the U.S. when it goes into effect on November 8th.
Stefanik's Actions to Reopen the Northern Border:
Congresswoman Stefanik has been advocating for Northern Border communities since the country started reopening from the pandemic. Stefanik met with several Members of Parliament to discuss strategies to reopen the U.S. – Canada border and sent letters to each of Canada's provincial and territorial Premiers requesting their partnership and assistance. She applauded the Canadian government's announcement that allowed fully vaccinated Americans to travel to Canada starting on August 9, 2021.
Stefanik has consistently pressed the Biden Administration for a plan to reopen the northern border. In June, Stefanik introduced the Restoring Northern Border Travel Act and called on Senate Majority Leader Chuck Schumer to bring it the Senate floor for a vote.