Washington, D.C. – Today, Congresswoman Elise Stefanik joined Mornings with Maria to slam Lame Duck Speaker Nancy Pelosi's illegitimate January 6th Committee and Democrats' primetime 'show' last night. This sham committee is being used to distract from House Democrats and Joe Biden's many failures. Stefanik and House Republicans remain focused on the many Democrat-created crises that impact all Americans while exposing Speaker Pelosi and her politically motivated committee.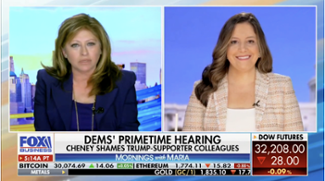 Watch her full interview here.
Highlights of her interview are below:
On Pelosi's sham partisan primetime show:
"This is a partisan, political witch-hunt. It truly is a political circus. Look no further than the fact that they read it during primetime hours."
"A typical serious Congressional hearing happens during the day, typically starting at 10 a.m. In addition, they hired a producer, the former president of ABC News, who was the same producer that covered up for Jeff Epstein and was called out for that. So this has been shameless."
"This is an illegitimate committee. There were no Republican-appointed members appointed by the Minority Leader -- that breaks over 230 years of precedence in the House."
"The American people are concerned about inflation. They're concerned about the crime crisis across this country, skyrocketing energy prices, as well as the border crisis. There's absolutely no primetime hearing that the Democrats are focused on."
On why the January 6 Select Committee is illegitimate:
"This is a political distraction, and it will do nothing to ensure that the Capitol is safe and secure in the future."
"Kevin McCarthy did appoint Republican members to that committee, and Nancy Pelosi took the unprecedented step of stripping them from that committee. That's not according to the rules of the House. That's not according to the rules passed by the Democrat majority."
"It's a requirement that any subpoena issued needs to be in discussion with the Ranking Member. There is no Ranking Member on this committee, because the Ranking Member would be the minority-appointed."
"What Republicans have done is we've continued to focus on our own investigation, making sure that we are taking the steps to make sure that the Capitol Police has the resources and training they need to harden the Capitol to make sure that we never face a security breach like that again."
On the bombshell reporting alleging Nancy Pelosi knew of threats to the Capitol in advance of January 6:
"The only office that the Democrats have said is off-limits is Speaker Pelosi's office. She has failed to turn over documents and communication regarding the moments leading up to January 6. The American people deserve 100% transparency, not a Speaker's office that is covering up, covering their own tracks. I believe that's why she didn't allow the Republican-appointed members to sit on that committee, because they were asking those very critical questions."
On Speaker Pelosi, House Democrats, and Joe Biden's failures:
"Like Joe Biden, like all of the House Democrats, Nancy Pelosi is tone deaf to what the American people are going through. On every metric, unified Democrat government has failed the American people. When I talk to my constituents in my district, it doesn't matter if they're Republicans, Democrats, or Independents, they are suffering. I talk to young families who have to drive hours to purchase baby formula. I'm a young mother myself – they are rationing baby formula on our shelves in this country. This is something that we have not seen in my generation over the course of my lifetime."
"The inflation – people are suffering when they go to pay their weekly or biweekly grocery bill. It is becoming unaffordable, and gas prices have doubled since Joe Biden took office. On every metric, the Democrats have failed. And nearly 80% of the American people believe we're on the wrong track…This is just another indicator of how woefully out of touch and dismissive she is of what the American people are going through."
On House Republicans' oversight priorities:
"One of the many areas where the Democrats have failed is Congress has oversight over federal agencies, and we need to hold those federal agencies accountable. Republicans are going to have on every single committee an oversight agenda.
"For example, securing the border and that crisis, and the flights of migrants to the state of New York, my home state. We're going to conduct that important oversight. When it comes to the controversies, and I believe, the criminal acts of Hunter Biden and his connection to the President of the United States – we will also make sure that we're conducting that oversight and asking those tough questions, including with subpoenas, which are very important. We're also going to make sure that the politicization of the Department of Justice and the FBI – that needs to be rooted out at its core. I've seen that firsthand on the House Intel Committee. We're committed to pursuing that."