Washington, D.C. – Today, Congresswoman Elise Stefanik joined her colleagues at the House Leadership press conference to discuss new polling that found voters favor Republicans to address the economy, crime, and the historic border crisis by double digits. Later this week, House Republicans will unveil our Commitment to America that will outline Republicans' agenda to address the crises created by Democrats' failed leadership.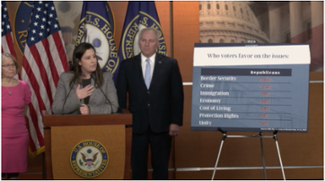 Below is a transcript of her full remarks:
Democrat one-party rule in Washington has created crisis after crisis for the American people, and Republicans have a Commitment to America to help save our country on behalf of hardworking families. The proof is in the latest polling.
I want to show you all the latest NBC poll that shows that voters trust Republicans more than Democrats to address America's crime crisis, economic crisis, and our historic border crisis by double digits: border security, Republicans lead with 36 points; crime, GOP plus 23; immigration, GOP plus 19; economy, GOP plus 19; cost of living, GOP plus 14; protecting rights, GOP plus nine; uniting the country, GOP plus six.
The proof is in the polling, folks, you have heard us for over a year continue to talk about the issues that matter to the American people.
House Republicans have been disciplined and unified in exposing Joe Biden and House Democrats' failed leadership. And it is clear right here that the American people are listening.
Instead of providing meaningful solutions to these countless crises, Joe Biden instead went on 60 Minutes this weekend and downplayed America's inflation crisis, and we all know America's inflation is near a 40-year high.
This type of rhetoric is not only reckless, it is woefully out of touch to the families in my district and across America who are experiencing the realities of Biden's failed agenda and are struggling to buy groceries and heat their homes as we head toward this winter.
Americans cannot afford another year of failed Far Left Democrat rule in Washington.
This week, House Republicans will be unveiling our Commitment to America in Pittsburgh, Pennsylvania. We will outline our Republican solutions to Joe Biden and House Democrats' crises that they created. We are focused on an economy that is strong, a nation that is safe, a future that is built on freedom, and a government that is accountable.
In 49 days, Republicans will earn back the People's House, fire Lame Duck Speaker Nancy Pelosi once and for all, and fight for policies that put hardworking Americans first.