Washington, D.C. – Today, Congresswoman Elise Stefanik joined House Republican Leadership in a press conference to discuss President Biden and House Democrats' energy crisis that's causing gas prices to skyrocket across the country. In the press conference, House Republicans again called on the Biden Administration to unleash American energy independence.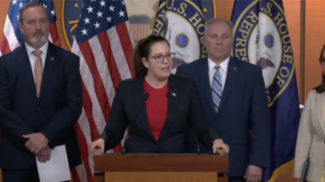 A transcript of her remarks can be found below:
Across the country, hardworking Americans are paying the price for Joe Biden and House Democrats' war on American energy independence.
Since Joe Biden's inauguration day, e
nergy p
rices have skyrocketed by 81%.
Nearly a quarter
of Americans reduced or went without basic food and medicine so they could pay their energy bill in the last 12 months. I've heard that from constituents in my district in upstate New York and the North Country.
Gas prices under Biden's failed leadership are the highest in U.S. history, costing the average American household an extra $2,000 per year.
In my home state of New York, people are paying $4.28 for a gallon of gas, upwards in my district. This is up 48% since last year.
Democrats' historic energy failures are crushing families' budgets in my district and across the country.
American families simply cannot afford to suffer under Joe Biden and Speaker Pelosi's energy crisis any longer.
When confronted about this anti-energy agenda, Joe Biden tries to pass the buck and blames everyone but himself. And we will see Democrats try to pass the buck again in their hearing tomorrow when they attempt to blame American oil producers and Russia for high gas prices.
But make no mistake, the American people are smart. Joe Biden and House Democrats own this energy crisis.
It was Joe Biden who killed the Keystone XL pipeline and greenlit Putin's gas line, i
ssued the executive order that suspended all oil and gas leases on federal lands and waters, p
ut our national security at risk by depleting our Strategic Petroleum Reserve, and proposed his budget with
BILLIONS of taxpayer dollars on his radical Green New Deal priorities.
House Republicans are united in calling on this administration to take the necessary steps to unleash American energy dominance TODAY.
Energy independence is economic security, and we know it is national security.