Washington, D.C. – Congresswoman Elise Stefanik today was awarded with the 2022 PROMISE (Protecting Our Most Important Students Early) Award by National Head Start Association (NHSA) in recognition of her steadfast commitment to Head Start and to serving our nation's most vulnerable children and their families.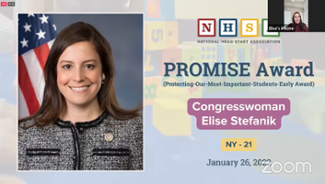 "Since I was sworn into office, I have worked to strongly support the Head Start program, because I believe early childhood education is essential to a child's growth and development,"
Stefanik said.
"Head Start supports locally-driven programs to meet the unique needs of communities, including in the North Country. It is an honor to earn this award and national recognition, and I will continue to work to provide this critical funding to ensure our North Country families have access to Head Start's incredible resources, so our children can have a strong start in life."
During her time in Congress, Stefanik has succeeded in increasing the annual Head Start funding by more than $1.5 billion with a bipartisan group of her colleagues.
The National Head Start Association's mission is to coalesce, inspire, and support the Head Start field as a leader in early childhood development and education.
Head Start programs promote the school readiness of infants, toddlers, and preschool-aged children from low-income families. Services are provided in a variety of settings including centers, family child care, and children's own home. Head Start programs also engage parents or other key family members in positive relationships, with a focus on family wellbeing.