Washington, D.C. – Congresswoman Elise Stefanik today questioned Department of Health and Human Services (HHS) Secretary Xavier Becerra on HHS' forced masking of Head Start toddlers at a House Committee on Education and Labor's hearing.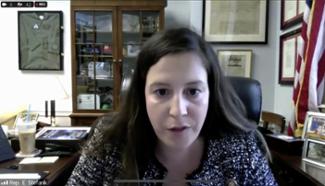 On November 30, 2021, the Office of Head Start, which is under HHS's Administration for Children and Families, published an interim final rule to require universal masking of all individuals two years of age and older, and require all Head Start staff, contractors, and volunteers that work in classrooms or directly with children to be fully vaccinated by January 31, 2022. This rule has been subject to multiple preliminary injunctions preventing its enforcement in 25 states. Even after changes to CDC guidance on masking, HHS has not updated their rule.
Stefanik made the following remarks during her line of questioning:
"Mr. Secretary, I wanted to raise what I'm hearing from thousands of constituents who are very concerned about the mandate requiring masks for young children and toddlers in Head Start programs. We know, based upon recent studies that masks on young children cause limited vocabularies, delayed speech development, and difficulties with social interaction and confidence. In addition, we know that face masks disrupt holistic processing and face perception in school-aged children, even the World Health Organization states 'children aged five years and under do not need to wear masks. Children of this age should not wear masks for a long duration.' We know on the ground from constituents that this rule is still in place. The CDC revised its guidance on February 25
th,
indicating masks are no longer necessary in the vast majority of the country."
"Why is your agency still imposing the harmful mask mandate on toddlers and young children in the Head Start program?" Stefanik asked.
Secretary Becerra responded by saying, "We know that masks are safe and effective" and that, "They should be used."
"The science is guiding us on the implementation of those policies," Becerra concluded.
"So the position of you, Mr. Secretary, in the position of President Joe Biden, is to require masks on children under the age of five, which science in fact has proven that masks hurt children, whether in their development, intellectual development, speech development. That is the position of President Joe Biden?" Stefanik asked.
When the Secretary demurred, Stefanik pressed for a yes or no answer.
"The position of this White House is to require masks only at this point for children in the Head Start program. There is no requirement for masks at K-12 across this country. So now we are in a position where the only mask requirements – and we know that science shows those least impacted by the COVID pandemic are the youngest of young children," Stefanik pressed.
"At Head Start, we are reviewing the policies as we speak," Becerra answered. He also noted that Head Start is primarily funded through federal dollars.
"Through taxpayer dollars? Taxpayers that do not support this mask mandate on children in Head Start, on our youngest of young children, who the mask mandate is hurting the most." Stefanik noted.
"What scientific studies are you relying on? Are you saying that the HHS position is different than the CDC's guidance? Who are the experts in HHS that are circumventing and coming over the top of the CDC recommendations?" Stefanik continued to ask.
"I can only show you the evidence we have," Secretary Becerra responded.
"From whom? Who are the studies conducted by? And do you believe that HHS has the authority to make a different recommendation than CDC?" Stefanik pressed.
When he dodged the question, Stefanik pressed him on what he says to the studies on speech delay, on the fact that the transmission rates and negative effects of COVID is the lowest of the low when you're talking about children under the age of five.
Becerra maintained his opinion and failed to directly answer the question. He said, "We each can have our own opinion."
"You are wrong in this position. If it is the position of Joe Biden to force mask mandates only on children under the age of five. That is woefully out-of-touch with the American people. It's also woefully out-of-touch of health experts across this country. I'm glad you clarified that it is this President and your agency that is circumventing the best scientific and medical advice to impose these mask mandates," Stefanik concluded.
In March, Stefanik led 24 of her colleagues in sending a
letter
to Joe Biden calling on him to immediately rescind the rule imposing mask mandates on toddlers and young children participating in the Head Start program.