Washington, D.C. – Congresswoman Elise Stefanik joined Sean Hannity to discuss Biden's Disastrous Spending Bill, Democrats in Disarray and caving to the progressive Far-Left factions of the party, and impacts vaccine mandates have on labor shortages.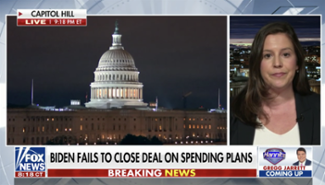 Click here to watch the full interview
Some highlights from the interview include:
On Biden's Disastrous Spending Bill:
"Democrats are in utter disarray, Sean, and this is a lame duck Speaker of the House. Nancy Pelosi is a lame duck."
"Joe Biden and Nancy Pelosi and the entire Democratic Party is being controlled by the Far-Left socialist progressives that you played earlier today. The Cori Bush's, the AOC's, the Pramila Jayapal's, who do not represent everyday working Americans.
"This is going to cost the American people over $10 trillion if you look at it in a 10-year window."
"They are cooking the books to hide the price tag from the American people… It is the largest tax increase and the largest spending bill in our nation's history, it is riddled and loaded up with far-left policies like mass amnesty for illegal immigrants, heat your home tax as we are heading into what will be the most expensive winter ever in our nation's history, so this is absolutely a bad deal for the American people, but the progressives, they are controlling Nancy Pelosi right now, who is a lame duck Speaker of the House."
"Instead of dealing with issues that are impacting everyday Americans, whether it is inflation, the supply chain crisis, Democrats are trying to shove through this multi trillion-dollar package."
"I don't think Nancy Pelosi is going to be able to deliver this over the finish line. Joe Biden is right that this is going to be the determinant of his presidency, and it's an utter failure, and it has been crisis after crisis."
On Vaccine Mandates:
"I represent New York's North Country. We are facing a historic labor shortage, and the vaccine mandate is only exacerbating this."
"This is about re-making government, where government is controlling your lives, that's not what the American people want. Democrats are woefully out of touch."