Washington, D.C. – Today, Congresswoman Elise Stefanik received overwhelming support to serve a second term as the House Republican Conference Chairwoman. Following the conference elections, Stefanik joined the newly-elected leadership team to preview House Republicans' plan to fulfill our Commitment to America in the 118th Congress.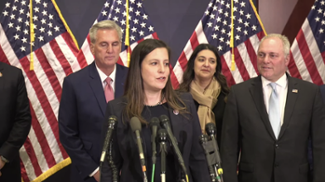 Read her full remarks below:
I'm honored to earn support from my colleagues to continue serving as House Republican Conference Chair. We won this majority because of our Commitment to America, and we are the last line of defense in a House Republican majority to stand up for the American people.
I particularly am proud being from the state of New York—we picked up four seats in New York State, flipping blue districts to red, and we will have a tremendous Republican Conference in the 118th Congress.