Washington, D.C. – Congresswoman Elise Stefanik today joined Stuart Varney on Fox Business and slammed New York's authoritarian vaccine mandates.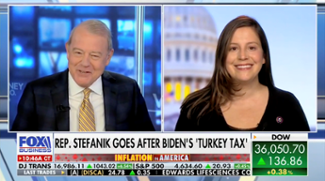 Click here to watch the full interview.
Some highlights of the interview include:
On the impact of New York's vaccine mandates:
"When Republicans win back the majority next November, we will oppose these unconstitutional mandates because we're seeing the impact in New York State, whether it's our fire department officials, our firemen, or our first responders.
"It's exacerbating an already bad labor shortage."
"Frankly, New York City residents especially need to stand up and continue to speak out about the negative impact on public safety, on response times with our fire departments and even on public health.
"There are two hospitals in my district that have closed their maternity wards because of the unconstitutional vaccine mandate."
On Republicans' actions against unconstitutional vaccine mandates:
"Certainly Republicans in Congress oppose these unconstitutional mandates. Democrats do have a majority in the House, and they need to feel the pressure from their constituents that they don't support these vaccine mandates."
"These [vaccine mandates] should be challenged in the courts as well."
"[Republicans] are going to support challenges in the courts. We also have filed legislation opposing any unconstitutional vaccine mandates."
"This is an authoritarian policy."