Washington, D.C - Today, Congresswoman Elise Stefanik joined her House Republican colleagues at the southern border to highlight the historic border crisis created by the Biden Administration's radical open-border policies.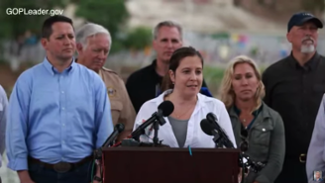 Below is a transcript of her remarks:
Thank you, Leader McCarthy, and thank you to Representative Tony Gonzales who works so hard every day on behalf of the communities he represents.
You know, when I think back to one of my first conversations with Tony, the number one issue he talked about that was important to his district is addressing the historic border crisis.
We've heard that firsthand from Border Patrol agents. I hear that from Border Patrol agents in my district along the Northern Border who have been transferred here, over and over and over again.
But make no mistake, this is not just a crisis in South Texas. This is a United States of America crisis. And it's a crisis as a result of Joe Biden and House Democrats' failed policies. This has gotten worse and worse every single month. It's the worst past year since we've been keeping track of the numbers. And we know it's only going to get significantly worse with Joe Biden's decision to lift Title 42.
Today, I had the opportunity, as did my colleagues, to tour with our boat Border Patrol. And the two captains of our boat were the ones that recovered the body of Bishop Evans. Think about the emotional turmoil, the emotional anguish, that these Border Patrol agents are going through every day in addition to the National Guard and their families. Our hearts break.
House Republicans are unified in securing the border and providing the support we need to our Border Patrol in our communities in South Texas and across the country.